B.C. Killers Invade Graceland!!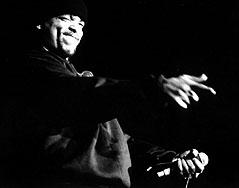 Body Count
with Minority
Graceland
Vancouver, B.C.
Sunday, December 1, 1996

Review by Daniel Ewacha
Photography by Rodney Gitzel
---

This show marked the second appearance by Ice-T in our fair city in less than six months. To what or to whom do we owe this honour? Two words and a powerful statement: Body Count. Back in August, Ice-T was up here entertaining us by way of what he is really known for, his rapping abilities. But this time around, those who were packed into Graceland (a fine venue to witness a live performance, indeed) were treated to a side of Ice-T rarely seen: straight up, hardcore, moshin', thrashin', heavy metal, in-your-face rockin' Ice-T. Body Count have been around since 1991 and are now, they claim, the only existing black heavy metal group in the world. They also happen to put on a kick ass show.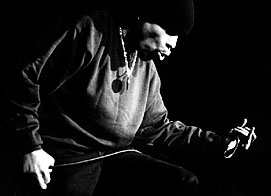 Yes, Body Count are notorious for their explosive live shows, and this evening was no exception. The vibrant energy and intensity that Ice-T alone brings to a show is astonishing, but combined with the four other members who make up Body Count (Ernie C and D-Roc -- a.k.a. the Executioner -- on guitars, Grizzly on bass and O.T. on drums), the concoction is lethal. Combining material off their debut album as well as their forthcoming CD due out in March, the band audibly assaulted the crowd, much to their delight. It was odd, I admit, watching Ice-T headbanging and moshing on stage, but it also proved that he's just as legitimate a rocker as Henry Rollins who, along with Type O Negative, give praise and respect for being true and staying real.
It would be fair to say that Ice-T was the real attraction of the evening, but the spotlight was fought for and sometimes won by bad guitarist Ernie C, whose hot licks and guitar-balancing acts showed that this was not just Ice-T and Body Count, but a combined effort of five individuals whose music is both frightening and invigourating all at the same time.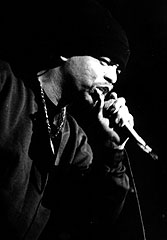 Two specific examples of this come to mind: the title track off their upcoming CD, Violent Demise, was by far the best song of the night and, if it's any indication as to the rest of the album, that disc is bound to be a classic. Listing the different ways man could die left a chill running down the spine of the crowd even before the music set the place on fire. The second incident occurred during "Born Dead," where the audience participation resulted in the word "dead" being chanted over and over again. With the venue draped in blood red lighting, and the distorted wail of Ernie's guitar and O.T.'s piercing drumbeat, this was a moment few shows ever produce: intense, emotional, and riveting.
The show did have one, well, a couple of weak points. Some of the Ice-T chatter between songs was word for word as when he was here last August. Even the explicit Ice-T joke he told was the same. As well, no matter how talented the man is, Bryan Adams and Barbara Streisand have nothing to worry about when it comes to Ice-T writing sappy love ballads, because he can't. Rather than try and make the girls swoon and the boys giggle over the carnal delights he sang about, it would have better to hear Body Count deliver another brutal musical assault.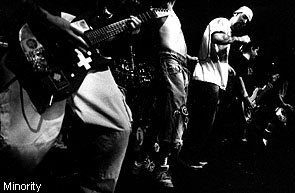 After Ice-T turned the microphones over to Ernie C to perform a Melvins' influenced song, "Dr. Kevorkian," Body Count left the stage briefly only to return and perform an encore consisting of "There Goes the Neighborhood," "Born Dead," and the song which brought Body Count a wave of priceless hype, trouble, and P.R., "Cop Killer." Walking off stage, Ice-T told us how proud he was of his "B.C. Killers" and promised to return very soon. If this next show is as good or even better than this one, Body Count's return to Vancouver won't be soon enough.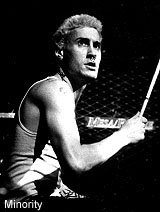 Maybe it was the thought of opening for Body Count that inspired their performance, and perhaps the opportunity to just play music. Whatever the reason, out of the eight or nine times I've seen Vancouver's Minority play, this was the best. It's too bad more people weren't there at the beginning of the show to experience fully this truly exceptional performance. As their set continued, however, the floor began to fill with the stragglers showing up for Body Count as Minority's mix of hip-hop, punk, and heavy metal grabbed the latecomers by the throat and dragged them into the action. It is perhaps fitting that Minority, with their musical style and flair, would open for a band like Body Count -- but, in all honesty, they are one of the only bands in town who could.
---
First published in Drop-D Magazine on December 14, 1996
Index | Search | E-mail | Info | Copyright

Considering copying some of the images from this story?
Please read this first. Thanks.