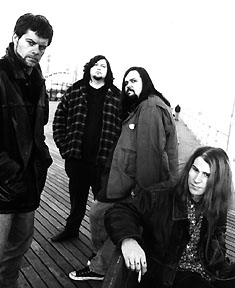 If a Tree Screams in the Forest...
Screaming Trees Guitarist Gary Lee Conner
Interview by Darren Kerr
---

44-second excerpt from "Witness" (various formats)


When Soundgarden recently parted ways, the only band that I figured had the stamina to stay the long haul, to carry the torch of the rock war-horses of years past, had ceased to exist. Only now, as I write this, do I realize that there is another band which has weathered passing fads and turning tides while consistently creating powerful, dynamic rock and roll. Ladies and gentlemen, from Ellensburg, Washington, the Screaming Trees.

People with varying degrees of density think the Trees began life with either their major label debut Uncle Anesthesia or their breakthrough album Sweet Oblivion, which contained the hit "Nearly Lost You." Little do they know that vocalist Mark Lanegan, twin tower brothers Gary Lee and Van Conner (guitar and bass respectively), and drummers Mark Pickerel (then) and Barrett Martin (now) put out their first album in '86, with three albums following on seminal indie label SST and an EP on Sub Pop before being snared by the tentacles of the major label octopus Epic.

"It was like a dream come true when we got signed to SST," says Gary Lee Conner. "It was weird how it happened cause we had just released an album by ourselves. Greg Ginn [SST head honcho and Black Flag guitarist] was interested. It was weird because we'd played a little bit in California and we actually just got a call one day from Greg but he was beating around the bush because he knew we had, well we didn't have a deal but we did an album ourselves that was on this label [Clairvoyance]. We didn't have a contract and we financed it ourselves, but it's like 'Oh I don't wanna fuck you guys up.' Finally he came up and said 'Do you want to be on our label?' and we were 'Fuck yeah!' To me the coolest that's ever happened to us was getting signed by SST; unfortunately, like anything, the label kinda degraded and it's not anything like it used to be, and the same thing happened to Sub Pop."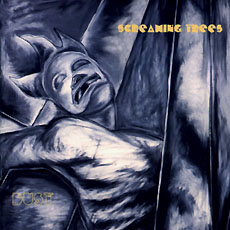 Since this is the same SST that has reportedly screwed over many bands, most notably Negativland (entirely another story), I wanted to get the skinny on the way the Trees were treated. "There were a lot of problems associated with SST, them not paying bands, and weird things like that. I guess we were lucky because we got signed at a time when... well, we didn't sell enough records for them to owe us any money, and whatever point we did, they finally got all their problems taken care of, and I think they were able to pay at least some of the bands. They've always been cool with us, so I can't complain."
What Conner will complain about is the way that the press suffered tunnel vision after the release of Sweet Oblivion. "When we introduced Sweet Oblivion, a lot of people thought it was our first record; not as many, though, as actually thought Uncle Anesthesia was our first record because it was on Epic. With Sweet Oblivion, all the fucking questions were not even about us or our record. They were all about the Seattle scene in general, about Nirvana. In Europe everybody was asking about Nirvana. It's like, 'Hey man, what about asking about our record?' whereas now, with the new record, people aren't even thinking about anything except us and our record, so it's cool."
It would be criminal if I spent all this time writing about past curiosities and ignoring the present, i.e. the new album, Dust, a collection of excellent rock songs with atmosphere and attitude, if not altitude. "Gospel Plow" with its table laden intro and goose bump-inducing bridge; "Witness," with its simmering guitar and uplifting sing-along chorus; and "Sworn and Broken," smooth, sweet, infinitely memorable, are just a few of Dust's polished stones.
"I think, with this album, it was like what we needed could be gotten for us. On Sweet Oblivion there was some extra instrumentation but you almost always have to use what's there. There were a couple of things that we didn't use but wanted to. Like one song, 'Dime Western,' we wanted to find, I believe it was called, a shanai. Barrett actually has one but he can't play it. It's like an Indian horn thing for that drony sound. We went out and looked for one and we found one but nobody could play it."
The keyboard timbres, sounds and overall mastery are a large part of Dust's depth and colour. Conner must be thrilled with sharing the studio spotlight with such beautiful tones. "The keyboards were courtesy of Benmont Tench, an amazing keyboard player who plays in the Heartbreakers with Tom Petty. I was amazed to realize that the band's been together for like twenty-two years. He came up with amazing solos and parts and stuff, like on 'Traveller,' that was one of my most memorable moments ever in a studio seeing him do that. He had two Mellotrons [early 70's keyboards, essentially analog samplers], playing one with each hand and for all the different sounds he would just switch them around. I think he used every sound on the entire Mellotron in that song."
You can hear the sheer song craft, the passion, and yes, the love in Dust. As for the next one, all I can say is, "See you in oblivion."
---
First published in Drop-D Magazine on May 17, 1997
Index | Search | E-mail | Info | Copyright

Considering copying some of the images from this story?
Please read this first. Thanks.