Drop-D Presents...

Looking for the girl with an attitude to spare, who can tug at your heart strings, and send you adrift on an evocative Spiritual Heroine trip?

A powerful blend of swirling, mythological images and an edgy "street sense" seem to come together in Spiritual Heroine. Takings its cue from Camille Baker's various musical influences including Greek and Turkish traditional music, Tom Waits, P.J. Harvey, the Swans and obscure classical music, Spiritual Heroine has caught the attention of the local Vancouver music lovers, establishing themselves with a strong following of their unique sound.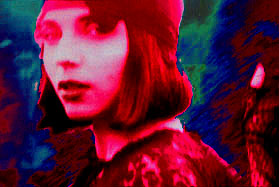 The band lineup currently includes Camille Baker on bass and vocals, Martin Larsen and Peter Russell on guitar, Sherry Chisholm on drums and Lisa Walker on violin.
The unique qualities and musical styles of each of the songs on the band's full-length independent release, This Body is Stolen, have created a soundscape unlike anything in the music scene today. The CD was recorded in July and August of 1994, mixed and mastered until March 1995, and released in June of 1995. Cargo Records recognized Spiritual Heroine's interesting new style and have supported the group with limited distribution, but the band is still available for a label to sign. Camille is always writing, and the band just recently finished tracking some new material for a follow-up release.
Riding on the successful launch of the 1995 single/video "Can't Find It," which received excellent reviews and airplay on local and Canada-wide college radio stations, as well as generous airplay on Much Music, the CD This Body is Stolen had an excellent start. The CD was recorded by Brent Calkin at Vancouver's MGS Studios, and produced by Baker and Christian Prekratic; the video for "Can't Find It" was shot at the end of July 1994, edited in the fall by Kelly Morris and released in March of 1995. The video premiered on Much Music in June 1995 and was played frequently throughout the fall and the winter. The video has also been aired on MTV Europe, MCM Euromusique, M6 Paris and ETV Network California, as well as a new music channel in Denmark.
Audio samples...
"Can't Find It," from The Body is Stolen:
"Walk Through Fire," an initial rough mix from the band's upcoming CD:

Media Quotes...
"...Spiritual Heroine...have a great sound and the singer is very creative vocally and has enough charisma and stage presence for everyone."
Josephine Ochej, Terminal City Magazine, November 30, 1994
"This such a breath of fresh air... the same vein as Condition and Tom Waits, providing some sort of psycho-sludge, jazz blues fusion thing. Its wonderful to hear influences from as distant as the Mediterranean where they tap into traditional music. There is a dark cavernous feel with the songs that Camille Baker has put together. Listening to this puts me out on the Bayou in Louisiana looking out for alligators. Thank you Ms Baker for sending me on this trip."
Thom Goodwin, Exclaim Magazine, May 1994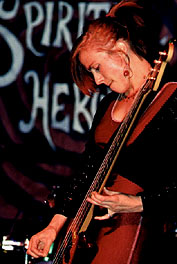 "Try and picture an alternative flavour with the sharply contrasting, yet amazing voice of Camille laid beautifully overtop. Its kind of like a cold shower in the summer, it refreshes while it startles. Give it a try."
Nolan Webb, UCFV Cascade Newspaper, April 13, 1994
"Imagine old R.E.M. and Babes in Toyland being joined together in holy matrimony by the Cocteau Twins. That, in a nutshell, is Spiritual Heroine."
"[Spiritual Heroine] welds together the best bits of your record collection into a fine gothic/alternative bliss-out. The Vancouver [group] contrasts too-numerous-to-mention past projects and finally settles on singer Camille's icy, sometimes tuneless voice swooping over the metal-shard roar of [the] guitar. With every song pitched as a tour de force, this...is arresting and...profound."
EA, Chart Magazine, January 1994
Reviews online...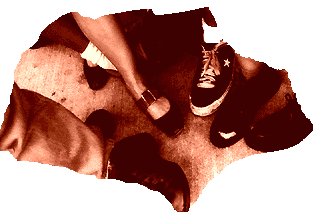 Watch for us and come out!
Contact Info...
c/o 2840 Alberta St.
Vancouver, B.C.
V5Y 3L7
Email: cami@intergate.bc.ca



Maintained by Drop-D Digital Publishing Inc.
Last updated June 3, 1997