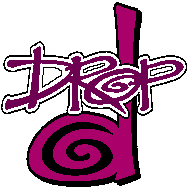 Drop-D Magazine
Vancouver's Music Magazine.
Well, here it is, over four months in the making, THE LAST ISSUE OF DROP-D!
It's been an interesting 2.5 years, and we'd like to thank everyone involved, especially our most excellent group of volunteer photographers and writers, you all rule!
So, see you on the flipside... and VANCOUVER BANDS ROCK!!!

December 5, 1998 ~ Vol. 3 No. 9 ~ Issue 99
Features
[ed. Yes, there are still some stories and photos coming... in particular, Music Waste, and more Music West. Apologies for this, but I've been busy the last few months...]
Two-Hundred Pounds of (Cardiac Arresting) Fun
'Diva la Grande' plays a hot show on a quiet night.
Live Review: Candye Kane, the Gate, July 7, 1998
A Sexy, Sweaty Idea of Fun
The bad boys heat up the Starfish.
Live Review: Girls Against Boys/Buffalo Daughter/Distortion Felix, the Starfish Room, August 3, 1998
Come on Baby, Light Me on Fire
A tonne of music that isn't at all close to the edge, anymore.
Live Review: EdgeFest '98, Thunderbird Stadium, July 11, 1998
Two's Company
But only if they're Inbreds, and not keyboards.
Live Review: The Inbreds/The New Pornographers/Bossanova, the Starfish Room, June 20, 1998
The Beasties Don't Suck Enough?
Perhaps that's obvious, but you never know...
Live Review: Beastie Boys/A Tribe Called Quest/Money Mark, Pacific Coliseum, August 1, 1998
Sold Out and Unrocked
One of those shows that should be just so cool, but... isn't.
Live Review: Rocket from the Crypt / Creeper Lagoon, Starfish Room, August 7, 1998
THIS WAS OUR HAPPENING AND IT FREAKED ME OUT
Tripping the light fantastic at New Music West
Live Review: New Music West '98 (by Darren Kerr), May 1998

CD Reviews
Dan Bern - Fifty Eggs
David Usher - Little Songs
Koan - Dromedary
Master P - Da Last Don
Rancid - Life Won't Wait
Robbie Robertson - Contact from the Underworld of Redboy
Rufus Wainwright - Self-titled
Rx - Bedside Toxicology
Slayer - Diabolus in Musica
Smashing Pumpkins - Adore
Sublime - Stand by Your Van
Tricky Woo - The Enemy is Real