Attack of the Killer Turtles
Turtle Records Compilation CD Release Party
Featuring DDT, Belter, Noise Therapy, Highway Freak Ticket, Ressurection Mary, Sex with Nixon, Maxi-Dadd, 351 Cleveland, Epsilon Knot, Evil Roy Slade, Boxcutter, Jabber and Damn the Diva
The Commodore Ballroom
Vancouver, B.C.
June 1st, 1996

Review by Michele Martin
Monochrome photography by Suzanne Goodwin
Colour commentary and photography by Rodney Gitzel
---

It's not often you get a chance to hear 13 bands in one night, much less 13 local bands, and all on the same compilation CD, too. Turtle Records' Volume One CD release party showcasing the disc's roster of up and coming bands -- many of whom have releases on Turtle -- was the perfect opportunity to check out some local "alternative metal" talent.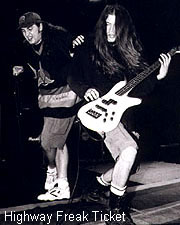 The evening began with a fast-paced set from Highway Freak Ticket. It was great to be able to make out the lyrics, something which you don't often get to do at the Commodore. And for a change, the sound system was cranked up to just a reasonable level, rather than total eardrum torture. The band's set was highlighted by their bass player's fancy, and incredibly fast, fingering. Not bad at all and a pleasant way to begin the evening. I'd give these guys a 6.5 out of 10.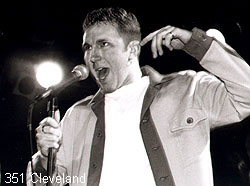 Next up, a wild bunch of young 'uns known as 351 Cleveland, whose youthful enthusiasm came through loud and clear in their lively music. Fun to watch, but not memorable musically speaking. Excellent vocalist. Give them some time, though and then wait and see... 6 out of 10.
Okay, let me check my notes here. Who's on third? Ah, yes, one of my favourites of the evening, Ressurection Mary (sic), who put on a great show. The lead singer had a wild hairdo and a very distinctive voice, which he put to good use in the set. A duet with Connie Scott [RG: Yup, the same Connie Scott who churned out all that dreadfully bubble-gummy Christian pop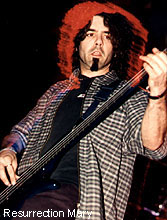 a decade ago] turned out pretty well and, man, does she have a hell of a set of pipes! I think she missed her calling, or maybe not: she did seem pretty comfortable on stage, though looking a little out of place with the rest of the motley crew. These guys were great to watch and sounded even better. Keep your eyes and ears open for them at a live venue near you. Definitely an 8 out of 10. [RG: Agreed. Cool band!]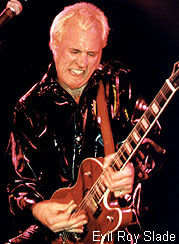 Number four on the Turtle roster was Evil Roy Slade, who put on a really neat and tight show. The lead singer had a boyish grin and a versatile voice which sounded kinda like an agitated Peter Gabriel. He also had on a cool black vinyl suit, which must have been unbearably hot. The band had a solid sound, with lots of bass, solid drumming, and the guy on skins providing some back-up vocals. They even managed to do a Neil Diamond cover, which sounded not too bad once the audience quit groaning. The only drawback to the set was some buzzing in the sound system, which got to be a little annoying, and the fact that all their songs tended to sound the same. Still, all in all, lots of fun. 7 out of 10.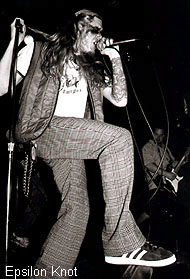 Where are we? I'm getting tired already, and that's just from keeping tabs on who's who. Okay, it's... Epsilon Knot. Epsilon Knot? Better check my notes again. Hmm. "Billy goat gruff on speed." Oookay. Anything else worthwhile? How about "yell rap" and "makeup lessons from Alice Cooper," and "a racoon with an attitude." Actually, these guys kind of grew on me after a while, reminding me of another local band, Crankshaft, who I really like (or did until they recently broke up). They have the same exuberance. The bass player looked like a slightly seedy Donny Osmond and the lead singer did kind of look like a billy goat with his red beard and ponytail. Fun to watch, and LOUD, and lots of energy, but not too exciting musically speaking. The problem with this band is that they simply sounded like every other band, even if their show did grab your attention. They're worth a 7.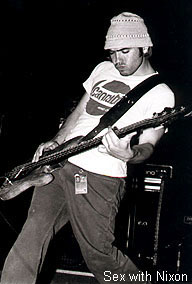 Moving right along, Sex with Nixon were in the number six slot. What a disappointment! I heard these guys play last fall and I expected more from them. We were treated to the band's current video before their set, and, unfortunately, the video appeared to be as disjointed as their playing. They just didn't sound very together: it was if they were all playing something slightly different. In the end it was just a bunch of yelling and a too heavy drum sound; they were not helped by the poor sound mix. Sex with Nixon left their energy and pizzazz home for the evening and just couldn't get their mojos working. Too bad. Maybe a 6. [RG: Sigh. Yeah, they are usually excellent, live, but this night were having all sorts of problems, technical and otherwise. Oh well...]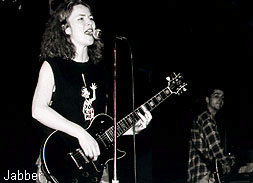 Yes! Finally, a woman singer in a not-all-white-male band. About time. In the lucky seven spot, Jabber played an interesting set which, unfortunately, never really caught the audience's attention. Jabber's lead vocalist did not have a particularly outstanding or even pleasant voice, and the most watchable activity of the set was the guitarist's obligatory pretentious hair swinging. The band's sound was repetitive and didn't lend itself well to the dance floor, and for the most part the audience just stood around looking bored, listening to the increasingly whiny lyrics. Nothing terribly new or exciting about this band, but it was nice to see a woman vocalist up front. I'll give them a 4. [RG: Now that's a generous score! It was quite sad to finally see non-white-males up on stage (which is good) and have them be so lame. Geez. Female serious rock. Alanis, Sass, Alannah, Jabber... ug. The singer wore a NoMeansNo shirt in an attempt to grab some credibility, but it didn't work...]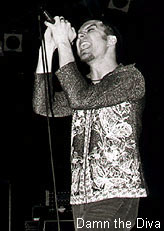 Who's next for number eight? Ah, yes, Damn the Diva. Now these guys know the meaning of "ensemble." They played well together, guided by the many talents of their lead vocalist who has a great set of lungs. It was a joy to hear the range and strength of his voice. The sound system appeared to have been adjusted somewhat in that, once again, you could actually discern the lyrics from the background music. Yes, they were poppy, yes they were cute, yes they were smooth, but man, I love that guy's voice. Keep it up, guys. I'll give you an 8.5.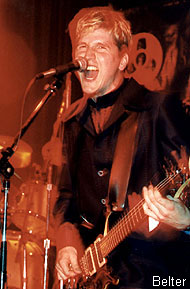 On to engine engine number nine with Belter. Unfortunately, these guys should have stayed going down Chicago line as they were the one band of the evening that was actually painful to listen to. Their heavy rock sound was boring, all bass and distortion. They were out of tune and out of sync and sounded like a million other heavy rock wannabe's. Their tunes were draggy and led the audience on a visibly noticeable downer with their non-danceable tunes. On a positive note, however, they only played the allotted four songs, and their last song was actually close to being decent, so our endurance test was kept to a minimum. Sorry guys, but a 3's all you're getting. [RG: No way! They're cool! They should get at least a 7 or 8, and they definitely get the "coolest chorus" award for "Tundra," too!]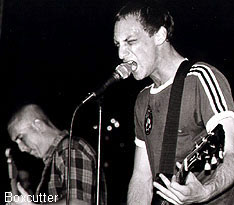 Hey, we're hitting bottom! In the number ten spot, we have Boxcutter. At the very least, this band was able to get the audience moving again out of their trance-like state. Unfortunately, I don't appreciate being yelled at instead of being sung to, and that's what these guys did. Same old music, same old punk rock show posturing, with every song sounding basically the same. In playing their single, "Better off Dead," the band did manage to pull together enough to produce a wild piece which got those good ol' boys moving wildly in the mosh pit [RG: by the way, the mosh pit was full of idiots, for the most part, this night]. At least somebody was appreciating the music. They get a 4.5.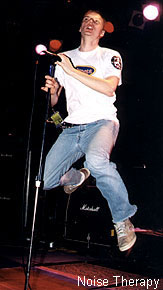 Another one of my favourites, Noise Therapy, were in the number 11 place. Lots of action, lots of enthusiasm, lots of good music. And, these guys, especially the guitar player, are FUN to watch. The sound system was improved somewhat for this set, and I was sorry that they only had four songs to play. I could have listened all night...Hell, I could have danced all night! Great show. They deserve an 8, maybe even an 8.5. [RG: And their song, "Dunce," is one of the best on the CD.]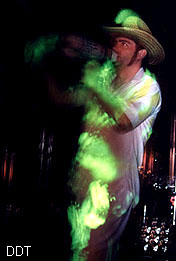 As exhaustion sets in once again, I'm revved up to fighting speed up by the frantic antics of band number 12, none other than Vancouver's own DDT. What can you say about a bunch of guys who strut out on stage, clothing covered in phosphorescent paint, with mini trampolines, among other things, for stage props? I've seen DDT many times and have always enjoyed both the excellent stage show they put on, and the great music they put out. These guys have presence and are going places so check them out locally while you've still got the chance. Oh, that reminds me: their new bass player, Squid, is none other than the former bass player for Crankshaft. No wonder DDT sounded extra good this evening! Give 'em a 9.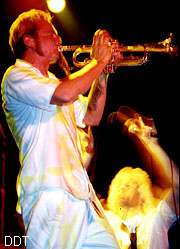 Finally, the end looms and we are treated to (or perhaps I should say tortured by) the sounds of Maxi Dadd. I'm still not quite sure what this group was all about. Lots of costumes and makeup, lots of weird props, but their particular musical style was indecipherable from the cacophony they produced. It was very late (after 2am), much of the audience had already left and we were all anxious to get going. This may or may not have made a difference in my perception of the show. I'll give them the benefit of the doubt... and a 3. [RG: Finally, we agree on a low score...]
Kudos to Turtle Records for the tight and well-paced production. The bands got a chance to strut their stuff, and if they were really terrible, it was okay because you knew they would be finished shortly. On the other hand, if you really liked what you were hearing, then you knew you could get yourself a copy of the compilation CD and check it out for some more tunes. Or, even better, get out there and support your favourite local bands live!
---
For more info on Turtle Records,
check out their web site...
---
First published in Drop-D Magazine on June 13, 1996
Index | Search | E-mail | Info | Copyright

Considering copying some of the images from this story?
Please read this first. Thanks.