Winnipeg Men Do No Wrong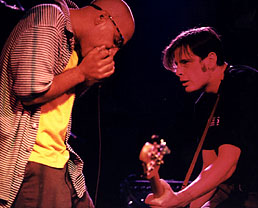 The Watchmen
with Weeping Tile and Mudgirl
The Commodore Ballroom
Vancouver, B.C.
June 7th, 1996

Review by Michele Martin
Photography by Rodney Gitzel
---

Arriving at the Commodore just in time to catch the last song of Mudgirl's set (don't you hate it when bands actually start when they're supposed to?), I noticed that no one was on the dance floor, and the place looked only about half full. The conservative audience just sat around the periphery, looking bored and chatting away loudly (and rudely) during the final song. Too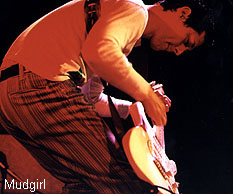 bad. I liked what I heard of this female-fronted standard four-piece band. Unfortunately, the sound system produced mostly distortion, which made even brief listening difficult, and I really would have liked to have had more of an opportunity to check out this band. Maybe next time.

Up next, Weeping Tile, from Kingston, Ontario. Fronted by vocalist Sarah Harmer, and accompanied by Mary Harmer on bass, Luther Wright on guitar and newcomer Cam Giroux on drums, Weeping Tile did a credible job of preparing the crowd for the Watchmen. The opening number, "Pushover," a catchy tune from their new release, Cold Snap, caught the audiences' attention with its big, resonant sound, surprisingly full for only four people.

Harmer does have a different sounding voice, though not one which is particularly memorable (sorry, Freako!). Her lyrics, however, are worth a listen, being intelligent, thoughtful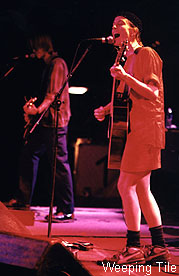 and provocative: "I am so light I get swept up onto the dust pan with dust and when it comes to her I am a pushover getting in the way in the way" Harmer's songs also contain distinctly Canadian images such as the "moss covered crevices" [sic] of the Canadian Shield coast, and the infamous Westray mining disaster.
Harmer was extremely low-key, pausing after every song to thank the audience, and thanking the Watchmen as well, "for being our pals and letting us play with them." One of the problems with the set, however, was just that: all the songs initially sounded the same -- low key and a little off beat. But that all changed with "The Rich Lady Song," wherein Harmer's voice rung out powerfully and gave evidence of a vocal range that was seldom seen in other songs. The band responded to Harmer's vocal strength and rocked along, building a wall of toe-tapping, finger-snapping sound. A new piece, "Unshaven," also relied on that same booming sound and heavy guitar work to get the audience bopping in the front, and a few brave souls dancing in the rear.
The set was a blend of surprisingly good thumping rock ("Westray," "Cold Snap") mixed with dragged-out, dreary tunes, particularly their audience-cooling attempt at a country song. If they stick with the lively stuff, they'll do well. I'd like to have the opportunity to see Weeping Tile in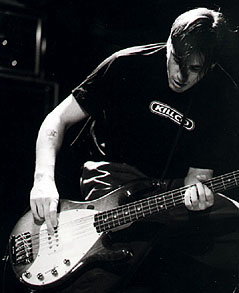 a different venue, preferably one considerably smaller and with a decent sound system (NOT SO BLOODY LOUD!) so that I could actually hear more of the those cleverly articulate lyrics.
Next up were the evening's headliners, from Winnipeg, the Watchmen, whom I had never seen live. It was apparent from the immediate and enthusiastic response they received from the audience the moment they appeared on stage that these guys could do no wrong. No matter what they played, their fans roared, clapped, stomped, and whistled their approval. The mosh pit got plenty of activity, as did the Commodore's infamous bouncing floor, and eventually even the bored-looking security guards got their share of exercise extricating those testosterone-laden bodies from the pit.
Playing a blend of songs from their last CD, In the Trees, and their current release, Brand New Day, the Watchmen kept their old fans happy and made some new ones with their rapid transitions from mild to wild. Daniel Greaves' steady and very listenable vocals and wailing harmonica grabbed the audience's seldom-waning attention. Bass player Ken Tizzard was interesting and lots of fun to watch with his unique, hunched-over style, whether planted firmly on stage, or stalking menacingly back and forth. Guitarist Joey Serlin had a chance to shine with some striking examples of heavy guitar rock at its best while drummer Sammy Kohn kept them all on track with a pounding, driving, beat.
The difference in style and tone from their last CD to their current release was apparent, even as one song segued smoothly into the other. The older tunes were darker and heavier, while the newer stuff, particular such fun pieces as "Bicycle" were noticeably lighter in theme and tone. "In my Mind," stood out, as did "Zoom" and "Bicycle," both from the new release. A bluesy yet frantic tune, "Tumbleweed" also got a lot of people moving on and off the dance floor, with "Boneyard Tree" completing the set. At one point during the encore I thought I recognized the beginning chords to "Teenage Wasteland," and, much to my surprise, that's what it was, and a pretty good cover at that, much less a nice way to end an evening with the Watchmen.
A highlight of the evening was listening to Greaves' two solo efforts, one during the regular set and the other as the first encore (a cover R.E.M.'s "You are the Everything"). It's unusual to have a vocalist get up and actually sing a cappella in front of an audience, and Greaves rose admirably to the occasion.
One piece which did not work out as well, however, was a duet between Greaves and Harmer. Barely reaching the mic and straining the whole time, Harmer was unable to match the tones of Greaves' voice, and rather than complementing each other, their voices sounded out of sync and disharmonious, a small blight in an otherwise immensely watchable and well-received show.
---
First published in Drop-D Magazine on June 13, 1996
Index | Search | E-mail | Info | Copyright

Considering copying some of the images from this story?
Please read this first. Thanks.