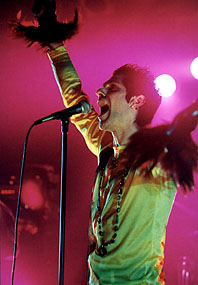 Life is a Cabaret, Mon!
Porno for Pyros
with Extra Fancy
The Commodore Ballroom
Vancouver, B.C.
June 12, 1996

Review by Michele Martin
Photography by Rodney Gitzel
---

You could tell that someone special was appearing at the Commodore last Wednesday. Half an hour before showtime and the place was already packed, the floor crowded with eager fans and the faithful claiming their positions front and centre of the barriers. Security was beefed up, as was the sound, with a dozen extra speakers on each side of the stage. But before we got to see the "someone," being none other than Perry Farrell (of Jane's Addiction and Lollapalooza fame) and Porno for Pyros, we had to, of course, get through the opening act.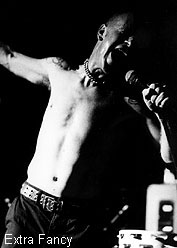 L.A.'s Extra Fancy were, unfortunately, anything but. Their lead vocalist stated it was their first time in another country -- perhaps they should have stayed in America. Opening their set with a wild little ditty, the title of which I believe was "Suck Me," these guys had their work cut out for them. Accompanied by guitar, bass and drums, the lead singer (who also did some drumming on a steel barrel) spent a lot of time rubbing his bald head, percussion stick in one hand, mic in the other. Surprisingly, the sound was not too loud, particularly in view of all those extra speakers.
Other than a few diehards at the front who would cheer at anyone opening for Farrell, I've never seen so many people on the dance floor not moving, with those on the edges looking bored and unhappy about listening to Extra Fancy. This foursome would start out mellow, rip into some obscenely punkish bars, then finish up with something entirely different, the overall effect being chaos and a sense of something missing. Whatever it was they were trying to do, it didn't work. At the end of their set, their chatty singer announced, "We thought you were going to fuckin' hate us!" Well, hate is a pretty strong word, but...let's just say they need a little work.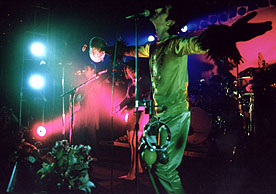 After much anticipation, Farrell and crew finally hit the stage to much enthusiastic applause from an appreciate audience. Suitably attired in a silky yellow shirt, with purple feather boa cuffs, Farrell's first act was to take a long swig of his bottle in hand before breaking in to "Porpoise Head" from their new CD, Good God's Urge.
Farrell's unique voice and stage presence are legendary, and tonight was no exception as he moved sinuously about the stage like an exotic dancer, maracas shaking wildly or mouth harp in place. Farrell plays to the crowd and gives them what they want, and in this show he had a lot of help, with none other than bare-footed Mike Watt on bass -- I thought I recognized that laboured and intense looking face!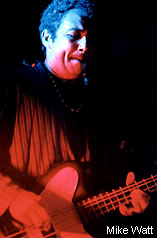 At the first stop on their North American tour, the band did a damn fine job of showcasing their decidedly different newer stuff which such tunes as "Good God's/Urge," "Thick Of It All," and "Dogs Rule the Night." Yet, they also played enough of the old stuff to keep everybody happy, including "Meija" (Mike Watt seemed to particularly enjoy that one), "Porno for Pyros," "Cursed Female," "Black Girlfriend," and "Bad Shit."
I've listened to their new CD and really like it, 'tho I'm rather amazed at the sound, which is so unlike anything else from Farrell and gang. It's hard to describe, other than to say Farrell has gone island introspective, mon, probably with a little pharmaceutical help along the way. I read recently that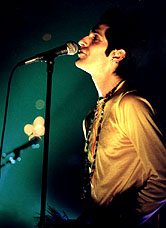 Farrell has been spending time with Yoko Ono and Timothy Leary (sigh, Timothy Leary is dead -- Farewell Dr. Leary) and this seems quite likely, judging by the band's "new" sound, which is actually, dare I say, "new age-ish," and even spiritual in tone.
Watching Porno for Pyros was more like seeing a cabaret show than a concert, and ended with Farrell, ever the consummate performer, blowing kisses and throwing flowers to the crowd as they frantically scrambled over each other to grab them.
Porno for Pyros did a short encore, keeping their fans happy with "a song about success," "Coming Down the Mountain," and then it was over. Huh? Boy, that was a short show, barely an hour including the break and encore. The set would been absolutely incredible to see in a smaller venue, as it had the spectacular quality of a cabaret show, with Farrell as the slyly grinning Master of Ceremonies.
Other than those not-so-few in the audience cursing over the brevity of the evening's performance, the crowd was glowing, stars in their eyes, and looking quite peaceful, which is not a surprise after a solid dose of listening to the cool, laid back sounds of the new and improved (to some) version of Porno for Pyros.
Farrell is currently working towards bringing a new type of musical extravaganza/festival/whatever called ENIT, and if the musical stylings of that event are anything like Farrell's show tonight, and Vancouver is lucky enough to be included in the tour schedule, then we'll be in for some pretty neat times ahead. Stay cool, mon.
---
First published in Drop-D Magazine on June 20, 1996
Index | Search | E-mail | Info | Copyright

Considering copying some of the images from this story?
Please read this first. Thanks.