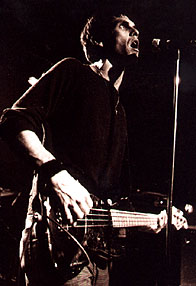 Mutual of Omaha Presents...
Asses, Ponys, Possums and Starfish, all in one show!
Possum Dixon
with The Ass Ponys
The Starfish Room
Vancouver, B.C.
June 8, 1996

Review by P. Freako
Photography by Suzanne Goodwin
---

I was pumped the instant I heard about this show. Possum Dixon and the Ass Ponys' are both unique bands that don't exactly come to Canada often. In fact, this was the Ass Ponys first visit to Vancouver; singer Chuck Cleaver explained that they had tried to play here before, but had run into border problems. They had no problems today, however, and the sparse crowd was fortunate enough to witness the band's virgin Vancouver performance. And how were the Ass Ponys?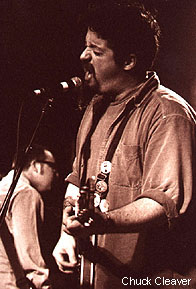 Awesome! Hailing from Cincinnati, Ohio, just a short drive down I71 from the Rock 'n Roll Hall of Fame in Cleveland, they came to the Starfish bearing gifts, the first of which was a painting they found by a dumpster. It depicted a lake surrounded by mountains on a beautiful day with ponies galloping by. The Ass Ponys laid this diorama down in front of the stage for all to enjoy, but the small crowd seemed reluctant to defile this masterpiece and bopped about its periphery.
Now, I did say gifts, didn't I?
Indeed I did. The other gift that they brought with them was a set filled with fantastic street level, obscure, pop poetry with rock overtones. Guitarist Bill Alletzhauser hid under his baseball cap, but was not shy about providing us with a standout creative guitar display. In contrast, Ass Ponys' frontman Chuck Cleaver was at times subtle in his approach, strumming his guitar and delivering his tales of everyday life in America with quiet, honest conviction. It is this honest delivery and strong songwriting that has brought the Ass Ponys their critical acclaim and strong core of fans. The Vancouver chapter of these fans were in attendance and let their presence be known throughout the set by requesting specific songs such as "Earth to Grandma" and "Superlove." The Ass Ponys obliged by playing older material such as "Grim," but also played several tunes off of their current effort, The Known Universe.
One got the sense of mutual admiration between crowd and audience: it brought out the personality in both. Bassist Randy Cheek, the most vocal with the crowd, was indeed "cheeky" and even grabbed his bandmate Bill for an impromptu breakdancing display on the painted diorama. Displaying the grace of panthers... er... uhh, okay the grace of Ass Ponys (imagine that animal), they climbed back on stage to finish the song without missing a beat.
The Ass Ponys delivered a tight, eclectic set of personal folk rock tales that left me feeling like I was riding shotgun in a big old Lincoln barrelling down the highway with Superlove playing on the radio. Yah... driving down the highway ...Yipes! What's that at the side of the road? Christ! It's four possums playing guitars and organs and pawning "maps to stars' homes". Man, these pink pills are awesome... Sorry, I get distracted between bands.
Los Angeles' Possum Dixon were the second half of the night's extravaganza. Their unique style of quirky, catchy pop is highlighted by the Farfisa organ, which adds that kind of 60's mod sound. Kind of like Peter Parker at the GoGo Club in the Spiderman cartoons. It's kind of an intense but playful atmosphere...don't you remember?
Possum Dixon were definitely in a playful mood tonight and they proved that early on. During the first song, guitarist Celso Chavez barreled into lead singer/bassist Rob Zabrecky from behind, knocking him into the drum kit. While the stage crew put the kit back together, Possum Dixon continued to play. That incident, however, would not be forgotten...
Playing songs primarily from their current CD, Star Maps, Possum Dixon exuded the point that they were comprised of more than just catchy guitar and organ hooks. They really rocked out and bursted with a stage personality all their own. Celso Chavez gave us a break between songs by unbuttoning his shirt, putting his hair back and performing a sultry lounge number in Spanish at the feet of a young lady in the audience. Oh baby! Continuing to rage with style, they poured through their set with
huge energy! Lead singer Rob Zabrecky taunted Chavez, and pulled at his hair until they began to wrestle on stage. Chavez still managed to play his guitar all the while. A member of their road crew made the most of this opportunity for stardom and picked up the bass lying alone, filling in for Zabrecky as he scrambled to his mic to finish the song. That was cool. After the song, organist/guitarist, Robert O'Sullivan exclaimed "What the fuck is going on over there?" Chavez told the crowd that Rob was a little sensitive.
Whipping the crowd up with strong musicianship and buckets of sweat, they kept us dancing for nearly 90 minutes to such songs as "General Electric" and "Crashing Your Planet." Possum Dixon threw the small crowd into ecstasy tonight and left us thankful that we were in attendance.
Possum Dixon and the Ass Ponys from start to finish were entertaining performers and stellar bands and both lived up to the respective acclaim they've received over the years. This was simply the best show I've seen so far in 1996.
---
First published in Drop-D Magazine on June 20, 1996
Index | Search | E-mail | Info | Copyright

Considering copying some of the images from this story?
Please read this first. Thanks.