Diamonds in the Dirt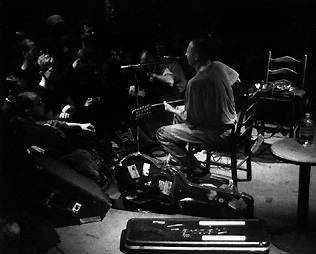 Bob Mould
with Mark Eitzel
The Town Pump
Vancouver, B.C.
Monday, October 28, 1996

Review by Pieter Hofmann
Bob Mould photography by Paul Clarke
---

Some concerts are diamonds; others are dirt. The double bill of solo artists Mark Eitzel and Bob Mould slid into the latter category due to technical problems for Eitzel's piece of the show. The former member of the American Music Club was hindered by an extremely lacklustre sound mix that he was unable to overcome. Right from the outset, the casually-clad Eitzel struggled to gain footing as he offered up morsels from his strong debut solo album, 60 Watt Silver Lining.

Unable to show off the subtle twists and turns his music takes, Eitzel fell prey to attempting to push the envelope to overcome the poor sound. Very rarely was he able to hit the mark. Other than on "Wild Sea," Eitzel's set was, sadly, a disaster. After less than a dozen songs he put his guitar down on its rest (the guitar, naturally, fell over) and the obvious frustration got the better of him. Picking up his acoustic, he threw it back on the stage and stormed off. He simply never had a fair shake.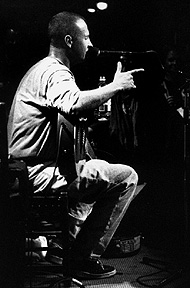 On the flipside, Bob Mould's set was far superior. There must have been a pow-wow during the break, as all the sound problems were rectified for Mould's tenure on stage. Despite a cold, Minneapolis' favourite son (he's originally from New York State, but is associated more with the city that bred Hüsker Dü) rattled off one jewel after another.
Sitting in a wooden chair, Mould opened with a searing version of "Wishing Well" from Workbook. Although on tour to promote his first solo album (self-titled) in six years, he sprinkled the show, in retrospective fashion, with songs from his other incarnations (Sugar, Hüsker Dü). While not a brilliant vocalist, Mould's power and sincerity are unassailable. Always on the cutting edge of music, he can shave off any pretensions surrounding the current trends and make remarkable music for music's sake.
Offering up tracks from various albums and periods of his career, Mould confirmed the necessity of quality material over adornment: stripped down to the solo setting, not a hint of vulnerability or chinks in the songs' armour appeared. In fact, some tracks benefited from the barren sonics. The beauty that is buried on the electric versions of "If I Can't Change Your Mind" and "It's Not Funny Anymore" shone through in purifying beams of light. Notably, "Hoover Dam," from Sugar's Copper Blue, spoke volumes on his twelve-string acoustic.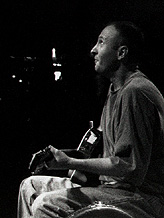 Reknown for being introverted and less than animated in the live setting, Mould seemed comfortable in the Pump's surroundings and, while rarely speaking between songs, displayed a humourous side when a member of the audience yelled out a request. With a nod to his recent solo album, where he plays all the instruments, Mould cut the rug with a handful of excellent acoustic reworkings. For the lone encore, he pulled out a Stratocaster and washed the venue with waves of fuzz and sustain on "I Apologize" and the tongue-in-cheek, "I Hate Alternative Rock."
Mould's set was a fine document of a man, at the age of 35, unwilling to bend to the current way the wind blows. He displays a rare passion of musical quality, versatility and integrity that will more than likely always be shunned from commercial radio. Fortunately, he doesn't seem to really care.
---
First published in Drop-D Magazine on November 8, 1996
Index | Search | E-mail | Info | Copyright

Considering copying some of the images from this story?
Please read this first. Thanks.