Dinosaurs Exhumed Downtown!!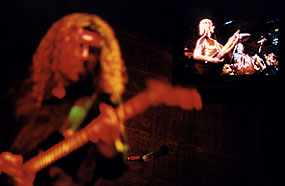 Mind Gallery
with Earthbound
The Web Café
Vancouver, B.C.
Friday, December 13, 1996

Review by Peter Grainger
Photography by Rodney Gitzel
---

The hoary old monster Progrock has reared its ugly head again, this time in Vancouver, of all unlikely places. Harkening back to the early 70's when Progressive Rock attempted to take music in a distinctly celestial direction, two local bands are trying to do it again. And succeeding very well -- artistically, if not commercially.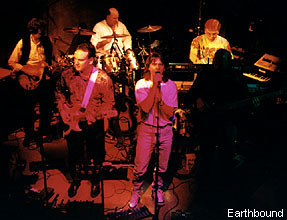 Earthbound cover Yes, Genesis and King Crimson songs, often in medleys that the original bands would admire, if they ever go to hear them. Of course, twenty-minute epics about starship troopers, seasoned witches, and croquet-mallet-wielding school girls are not typical bar band fare; but then, much of the small, enthusiastic audience at the Web Café knew that going in. Many could be seen singing along or playing air-drums to intricate Yes numbers like "Close to the Edge" and "Awaken" being performed perfectly, note-for-note. Singer Brad Gent has an uncanny ability to impersonate Jon Anderson's soaring vocal style; he even has an angelic face and uses the same airy-fairy hand gestures of the original Yes frontman. Guitarists Paul Seale and Dan Barichello have an obvious love for Steve Howe's playing, but manage to ignite a fiery finesse into their arrangements, which actually improves on the originals. No wonder people are calling Earthbound a "tribute" band! The sextet promises songs of its own at future shows.
While Earthbound is all sweetness and light, Mind Gallery is heavy and dark, almost to the extreme. Mind Gallery doesn't wear its influences on its sleeve; they're tucked UP its sleeve somewhere, like a trick card, but if you've heard Gentle Giant, Can or National Health, you're getting close to knowing what this band is about. Like the best practitioners of Progressive Rock, Mind Gallery is intent on taking you places. Being purely instrumental, the music conjures up real and imaginary places like the best "program" music in the classical realm.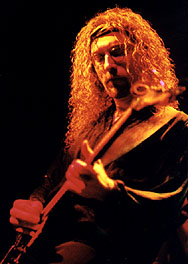 Opening with three songs from its upcoming third CD Three Meals from Revolution (and bearing such open-ended titles as "Nothing is Not," "Free the Free" and "Odd Evenings"), the band created a mood that was ominous, claustrophobic, and angry; the sound was angular and dense. It was easy to lose yourself, submerge the ego, and forget where you were, what time it was, and just how long the last song really was...
While it didn't take too long for Mind Gallery to clear the room of the musically unadventurous, the remaining few sat riveted. Music this intense doesn't belong in bars, which is one reason why the band plays only two or three times a year. They must do a lot of wood-shedding in the studio, though, because Mind Gallery played very well, replicating tracks from its previous CDs with clarity and verve. Guitarist Gary Bourgeois is the showman here, taking more cues from Ted Nugent than Robert Fripp. The other players, keyboardist Elio Bruno, bassist Mike Anderton, and drummer Tracy Gloeckner, displayed little personality, as they were deep into concentrating throughout the show.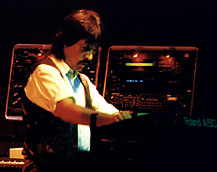 The altered state atmosphere was further enhanced by multimedia artists SubLevel 3. Using live video cameras, taped images, computer graphics and real-time image processing, SubLevel 3 really helped to take the few remaining fans into Never Never Land one more time. (Mind Gallery plan to soon release a video documentary, Alive in the Net, which captures a similar multimedia concert last year at the Vancouver Film School.)
All this sounds like the proceedings must've been pretty dour, but a sly humour shimmers in the blackness of Mind Gallery. Whether it's for song titles like "The Lemmings Were Pushed," "Beating Around the Bush" or "Stop and I'll Shoot," or for some of the in-between-songs patter, or for the pirates-on-parade-walk-the-plank antics during their magnum opus "The Eighth Sea," Mind Gallery deserve to be seen and heard by prog punters everywhere. Now if only there were more places for such prog rockers to play!
---
First published in Drop-D Magazine on December 26, 1996
Index | Search | E-mail | Info | Copyright

Considering copying some of the images from this story?
Please read this first. Thanks.