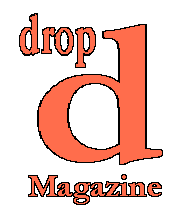 Vol. 1 No. 6
May 12, 1996
Drop-D Magazine
Vancouver's Music Magazine.
ON the 'Net and OFF.
Better late than never...

Features
Minty Fresh Taste, Long Lasting Refreshment
Mint and Lookout Records bring out their bands for an amazing Music West showcase.
Freako Goes (Music) West
P. Freako wanders the land in an epic search for vampires and unknown bands.
Guided by Molson Canadian
Matador rockers mighty pleasing to starved indie kid.
Westing and Wasting the Nights Away
A couple nights on the town during Music West/Waste.
Trusted by Millions, Played for Hundreds
But why did 54-40 need to take up a whole night of Music West?!?

CD Reviews
NoMeansNo
The Worldhood of the World (as such)
Falling Sickness
Right on Time
Funeral Oration
self-titled