Trusted by Millions, Played for Hundreds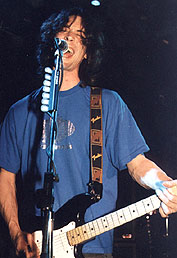 54-40's Trusted by Millions "CD Release Party"
with Coco Love Alcorn
Music West '96
The Starfish Room
Vancouver, B.C.
May 4, 1996

Review and photography by Suzanne Goodwin
---

Awright! 54-40 was playing at Music West! Ya-hoo! CD release party, too! A bunch o' the new stuff. Cool... But gotta line up early and get ahead of all those other wristband-toting Music West types. Show's at 10:30 with Coco Love Alcorn, there should be lots of people, so I'd better get there at least by 8:30 and get in line! But there's no parking anywhere!!! AAAAAHHHHH! Do Vancouver's traffic horrors never cease?! But, where's all the people!? There's no one at the Starfish except for the four other die-hards waiting at the door, all expecting the same huge lineup -- and one had arrived at 5:30, just to be safe! We were all similarly astonished at the lack of human throngs: this is a 54-40 show in a club, after all -- and that is, like, rare, man.

The "nice and friendly" Starfish Room lady finally decided to let us in a half hour after the published door opening time (meanwhile I was missing other Music West acts just to get into this thing). This was starting to feel much like a regular gig, and my suspicions increased once inside. There was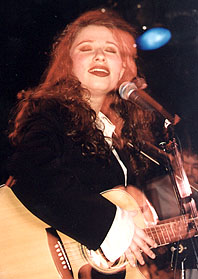 no 54-40 propaganda to speak of, which wasn't what I expected. This was supposed to be a CD release party, so where was all the hype? Were the industry hounds incognito? The closest thing I saw to 54-40 goodies was the ususal small area of t-shirts, CDs and stickers. No free beer and munchies, though the bar was only too happy to offer up a bevy of beverages at regular club prices. Oh well, we get to hear all the new 54-40 material, right, so did it really matter? Nah... I mean, what more could one want? Time to settle in and wait.
At 10:30, a sweet-voiced Vancouver songstress, Coco Love Alcorn, quietly took to the stage. Subtly backed by bass, drums and softly coo-ing Hammond and Rhodes keyboards, she had the full attention of the burgeoning crowd. Occassionally she added an acoustic guitar to round out the sound, but I think she could have wowed us on the strength of her singing alone. Full-bodied and melodic, Coco's voice has a range and versatility which captivated the room with her contemporary renditions of original material steeped in jazz and soul roots. Shades of Aretha Franklin, Nat King Cole and a touch o' dance. Coco chose to end her half-hour set with her single "New World Up," a dance-ish and optimistic little number which buoyed the room's energy level up almost to the point of levitation.
Perhaps it was a rather unusual crowd for Coco Love Alcorn to be playing in front of, but, then again, what better way for her to reach a wider fan base? As it was a Music West show, the audience was likely more receptive to hearing new and different talent than what might be expected on the bill had this been a regular 54-50 show. Suffice to say, Coco won over a diverse populace of music fans this evening and, if she can continue to do so, we'll be hearing her around for some time to come.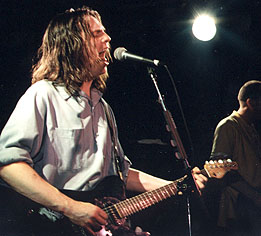 After Coco's performance, it was back to more waiting, but, uh oh, the room was fast becoming um, well, FULL. Actually, it was PACKED, as far back as I could see. Maybe getting here extra early really was a good idea because I had to viciously vie for my half square foot of space at the front of the pack. That was OK, though, 'cause I'm a fan, and I'd probably never ever ever ever get to see 54-40 in such close quarters again, so I was gonna be so close I could almost TOUCH THEM and I was gonna hear all that new stuff and DAMN! Was I ever excited!
Amid a sea of swirling blue and green lights, 54-40 arrived onstage and immediately assaulted us with a wall of sound. They cranked out their tunes at maximum intensity, all the while passing around the smiles in an almost playful attitude. If guitarist Phil Comparelli smiled any more he'd have to get supports for his cheeks. Even singer/guitarist Neil Osborne's typically more sombre demeanour had become loose and relaxed, almost ebullient. Statue-like bass player Brad Merritt could also be seen to emit a grin or two. This was, after all, a CD release PARTY, not a regular gig and I have to note that the usual chasm between band and crowd was fairly nonexistant. The approach 54-40 took to sharing their music was very gig-like in presentation, but the latent unity between everyone present reminded me that sometimes musicians, even famous ones, just want to have fun, too.
Now, I certainly can't deny that I was enjoying myself. My head was a-bobbin' and I just soaked in all those hits resonating through me: "Baby Ran," "One Gun," "I Go Blind" (Oh, how could you, Hootie? Arg! 54-40, how could you let them? Sniff...), "She-La," "Ocean Pearl." I think you get it. But hey wait! What about the new stuff from 54-40's latest, Trusted By Millions? Of course, I'd dearly love to, but I found it hard to get a feel for the new tunes when they kept getting slipped in between the monster hits; the new material was overwhelmed by all the older songs that were played around it. I can tell you that the newer tunes show a return by 54-40 to the hookier alterna-pop sound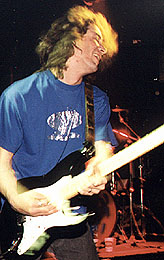 of their Dear Dear release, with the first single, "Love You All," a case in point. That said, we also didn't really get a fair representation of the new release, because they only played about six songs from it.
As a fan, I didn't really mind, because I was just so darned happy to be there. But, the thing is, 54-40 used a night of Music West to do this. So? Well, Music West is apparently the type of thing you attend to see new and upcoming bands. I suppose it's okay for 54-40 to showcase their new material because new, unsigned, unknown etc. is supposedly what the festival is all about, but they weren't really showcasing new material here. Is that really fair to other less-established bands who didn't have access to the Starfish on a Saturday night during Music West? Coco Love Alcorn definitely benefited from the exposure of this show, but how many other acts could have been booked for this one night? More than two? 54-40 doesn't have to do this show/party thing during Music West. Filling a club in Vancouver the size of the Starfish anytime they want can't be very high on the band's list of worries. Rant, rant, rant, I had to say it.
Well, if I can say anything about 54-40's new material -- according to what I heard this evening, that is -- it's that the band is not alienating their fan base by taking off in some strange new direction. As for 54-40's performance, well it was just so energized, intimate, tight and fantasmagorical that the legions present certainly had not been lost. (I should also say thanks to Phil for the rockin' 54-40 guitar pick... it's at the framing shop as I write.) Trusted by Millions? Maybe 54-40 is, but I'll reserve fair judgement on the new stuff until the actual CD hits my player.
---
First published in Drop-D Magazine on May 12, 1996
Index | Search | E-mail | Info | Copyright

Considering copying some of the images from this story?
Please read this first. Thanks.