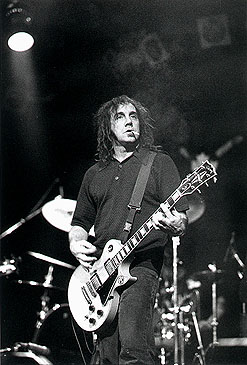 Guided by Molson Canadian
Guided By Voices
with V-3 and Spoon
Music West '96
The Commodore Ballroom
Vancouver, B.C.
May 2, 1996

Review by Justin Rice
GBV photography by Paul Clarke
---

This show featuring one of indie rock's most enduring (and possibly oldest) bands, Guided by Voices, was the best gig that I've seen in at least a year. Of course, one must take into account the fact that I live in Edmonton, and that the last decent show I saw here was Yo La Tengo in July of 95, so I'm one starved indie kid. Also, GBV are also probably my favourite band -- hey, I flew to Vancouver for just this show! -- so I'm a little partial towards them. Still, the show was amazing!

I arrived in Vancouver about three hours before the show and, after some confusion at the airport, managed to hook up with my ride. From the airport we progressed straight to the nearest liquor store, and, in true GBV fashion, proceeded to buy copious amounts of alcohol, which was consumed much too quickly while arguing about lead singer Bob Pollard's reputed drinking prowess. Needless to say, we completely missed the earthquake that struck Seattle and Vancouver just hours before the show; this was quite disappointing, as it would have been my first.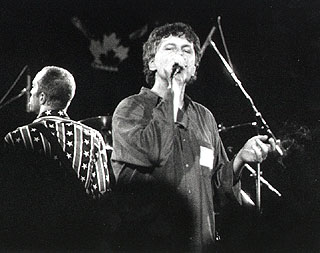 The Commodore was starting to fill when we arrived as Austin, Texas' Spoon got things going. Matador labelmates of GBV, Spoon are a three piece with Britt Daniel on vocals and amped acoustic guitar, Andy Mcguire on bass and vocals, and Jim Eno on drums, and the band definitely wears their indie influences on their sleeves. I was reminded at various times of Pavement, Yo La Tengo, Wire (they did a good cover of "Three Chord Rhumba") and the Pixies, to name but a few. Not that that's a bad thing, they just didn't do much for me. They have a new album out on Matador if anyone's interested.
V-3 were up next, and this is where things get a bit fuzzy. I recall they were a three piece and played a pretty short set that reminded me a lot of Spoon, and that at one point they started talking about how they really liked GBV or had known them for a long time or something like that ("they were forced to name-drop to keep the attention of the crowd" was how one of my friends eloquently put it). Frankly, their set couldn't have ended fast enough for me. They were the birthday card that your Mom made you sit down and read before you ripped the wrapping paper off you birthday present.
As V-3 winded things down I slowly pushed my way to the front to make sure I was going to get my plane ticket's worth. After what seemed like hours, a roadie came out of the back carrying a big tub of ice and beer (Molson Canadian... go Bob!!), which was strategically placed in front of Kevin Fennel's kit, possibly confirming rumours I've heard that their rider includes a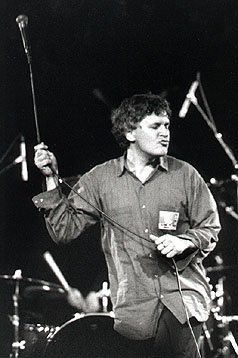 minimum of six cases of beer). Then guitarists Mitch Mitchell, Tobin Sprout, fill-in-bassist Matt Sweeney (of Chavez), and Mr. GBV himself, Bob Pollard, staggered onstage (actually, Bob was the only one who was staggering) to the chanting masses.
Things really got going about three songs in, when Pollard tore into "Game Of Pricks," the Holliesesque pop gem that is my favourite song off their last album Alien Lanes. Hit after hit followed... "Motor Away," "Tractor Rape Chain," "Mesh Gear Fox," "Lethargy," "Postal Blowfish," "Quality Of Armour," "Sheetkicker," "I Am A Scientist," "Hot Freaks," "My Valuable Hunting Knife." All were churned out quickly (no solos in this band), as request after request was screamed from the audience (as there was no set list).
They went through their whole songbook of tricks, everything from Pollard's trademark sixties British Invasion pop to more prog rock and psychedelic stuff to straight out punk. The material seemed a little heavy on Bee Thousand and Alien Lanes songs, but Tobin explained that was mostly due to Sweeney being broken in on bass. Surprisingly little was played from the new album; I remember the new single "The Official Iron Man Rally Song," but nothing else. Of course, everything was coming out so fast, and I've been listening to my live albums so much since I got back, that all the songs are starting to blur together. They ended with rousing versions of "Madder Eater Lad" and "Johnny Appleseed" off the Clown Prince of the Menthol Trailer 7" and before I knew it the lights were on.
Guided by Voices live were everything I had read about and more than I'd hoped for. A little the Who, a touch of Cheap Trick, and a pinch of the Kinks and the Hollies thrown in for some pop flavour. Mitch Mitchell, with his perpetually fresh cigarette in his mouth and his Pete Townsend windmill riffs, complemented Tobin Sprout's more precise playing. Bob sang (faux english accent and all) and skipped and jumped and kicked and clapped and swung his mic (rather dangerously at times) and drank and fell over, pretty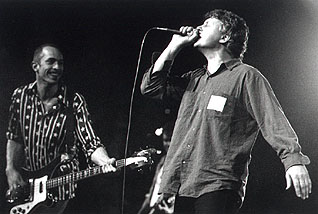 much in that order. Kevin Frennel pounded away proficiently, keeping everything together in the back. They had the ease and tightness of a band that has played thousands of times together, the ultimate garage band done good.
There is nothing new about their music -- it's all been done before. Maybe the secret of their success is the fact it's new to a lot of the younger audience?? Maybe it's the older audience recognizing what's missing from so much modern music?? Most likely it's the fact that as Pollard himself has stated, "You can't keep a good pop song down." This from a man quoted as saying he could write five songs taking a crap and three would be really good (and he's probably right).
The lyrics to "Echos Myron" off Bee Thousand may sum up GBV's meteoric rise to fame (this is a band that's done its time) best...
"And we're finally here
And shit yeah it's cool
And shouldn't it be
Or something like that"
You missed a great show if you weren't there. I certainly got my $300 worth!



---
First published in Drop-D Magazine on May 12, 1996
Index | Search | E-mail | Info | Copyright

Considering copying some of the images from this story?
Please read this first. Thanks.