Hot Night at the Community Hall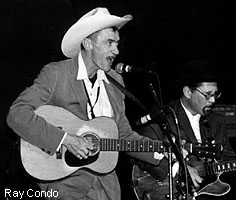 Ray Condo and His Ricochets
with G.I. Blues
WISE Hall
Vancouver, B.C.
Saturday, August 9, 1997

Review by Alphonse Leong
Photography by Rodney Gitzel
---

Maybe it's the pretty girls in long, flowery summer dresses, or the slick hardwood dance floor, or the gently soothing sax, but seeing Ray Condo and His Ricochets at the WISE is like being transported to a secret mystical place where time stands still. The place was infused with the spirit of early rock 'n roll (like a scene from La Bamba, one girl commented), and it's easy to see why Condo calls it his "favourite gig in town."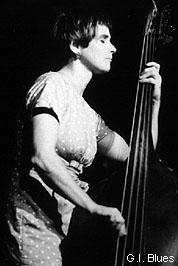 In a curious arrangement, Condo had openers G.I. Blues perform two sets: the first one and another one sandwiched between the Ricochets' two sets. Good thing, because G.I. Blues' first appearance onstage only managed to incite one thin, bearded guy to try to dance! Vocalist/guitarist Howard Rix seemed a little over-eager, sounding like an aggressive salesman when he addressed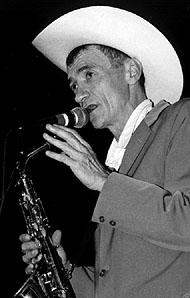 the audience. On their second crack at the stage, though, the band had a better time, playing in front of an audience that had been thoroughly loosened-up by Ray Condo.
Well-known to frequenters of Granville Island (where the band has been a fixture for the last seven years!), G.I. Blues' scruffy, busking demeanour seemed slightly out of place in a hall. Certainly, the energy was there, with all four players standing frontstage, but keyboardist Mike Van Eyes' Jerry Lee Lewis-style footplaying wore a little thin after the umpteenth time, and the rocking numbers (like the limp "Maybelline" cover) begged for ripping guitar lines that never materialized.
We got the full, driving sound we were looking for when Ray Condo and His Ricochets hit the stage. Ray Condo is just a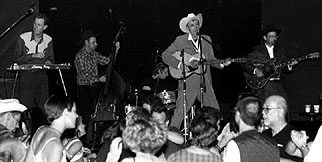 charmer! There's a little country coolness, a bit of rock 'n' roll brashness, and some jazzy sweetness all rolled up in this guy. He crooned with the best of 'em on the country swing numbers, but also snarled like a rock renegade on the fast rockabilly tunes, and was backed up by sharp Tele lead lines, unflagging drums and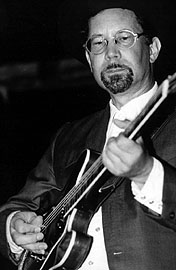 velvety bass. The combined sound was so irresistible that the dance floor was thick with bodies. On a tender slowdance tune that Condo called his "fat, meaty one," he played a sexy, romantic sax solo that reminded us he's a real musician underneath that snazzy country gentleman exterior.
Like a bandleader of old from the classic Grand Ol' Opry days, Condo grinned at us from beneath his white Stetson and kept telling us how he has "the best time in this place!" While he didn't move much onstage, he made a point of walking among the audience between sets to shake hands and chat, and you couldn't help but get a good vibe from him.
I have to admit that, though I began the evening girded for a tame, boring show, but by night's end I couldn't remember when I had more fun at a community hall!
---
First published in Drop-D Magazine on August 16, 1997
Index | Search | E-mail | Info | Copyright

Considering copying some of the images from this story?
Please read this first. Thanks.