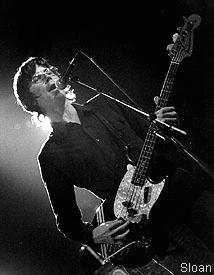 Hype is a Four-Letter Word
Stereolab
with Sloan, Pure and Cinderpop
Music West '96
The Commodore Ballroom
Vancouver, B.C.
May 4, 1996

Review by Daniel Ewacha
Photography by Paul Clarke
---

It was the most anticipated show of Music West. Fueled by rumours that the recently reformed Halifax supergroup Sloan were going to make their promised "secret appearance" at this show, fans packed the Commodore, leaving about 60 people outside begging to be allowed in to share in the love and the joy the evening had to offer. With the melodic and intellectual
sounds of London's Stereolab, who had been absent from Vancouver since their second-stage performance at Lollapalooza '94, to cap off the night, this show had the makings of something special. Unfortunately, someone forgot to mention this to the 1200 people -- and the bands -- inside the Commodore.

Vancouver's Cinderpop opened the show and seemed to be so in awe of playing the Commodore that they forgot to put full effort into their show. They did still turn in a somewhat impressive set, sloppy as it was at times. It was a good mix of pop, punk and Michael Bolton-induced ballads, with enough guitar hooks, tempo changes and quirkiness to keep everyone on their toes. It was, however, a lack of energy and intensity that kept Cinderpop from a more favourable performance.

Pure was to be up next, but after a 40 minute delay it was announced, to the chagrin of some and delight of most others, that "due to a medical emergency, Pure will not be playing,
and, in about 10 minutes, Sloan will be out." A couple days later I learned that lead singer Jordy had contracted a case of food poisoning!
Anyway, Sloan soon walked onto the stage. I have never been a Sloan fan, and, during their day in the sun, I must have been sleeping in a cave, because, judging by the attention they received all weekend and in the past, this show at the Commodore was the Second Coming! HYPE, ladies and gentlemen, is a four-letter word. I never understood the infatuation with this band, and I'm left even more confused now. The band's planned 25 minute set consisted of all new songs, save one, and left people asking, "If they broke up, why did they bother getting back together?" Why, indeed?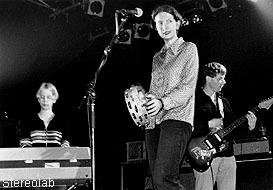 Stereolab closed the evening. This, I was convinced, was the band everyone had come to see -- certainly I had -- but I quickly became less convinced by the people around me. Stereolab are not a very visual band and, to be quite honest, are quite boring, live. But their music is what sets them apart from most other bands today: a mix of distorted guitars and ambient techno beats, layered with soothing feminine voices, provides a mystical vibe that demands of the body to move. This demand was ignored by the bodies of most in attendance. Stereolab is a band whose music is best experienced in a small club -- or at a laser light show at the planetarium. With a laid-back atmosphere that would rival scenes from the movie Coma and dismal performances by the other bands, the magic ran out well before midnight.
---
First published in Drop-D Magazine on May 16, 1996
Index | Search | E-mail | Info | Copyright

Considering copying some of the images from this story?
Please read this first. Thanks.