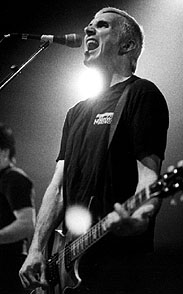 So Much for the Everclear Show
Everclear
with Nickelback
Graceland
Vancouver, B.C.
Saturday, October 25, 1997

Review by Mason Wright
Photography by Rodney Gitzel
---

When both of Everclear's guitarists broke strings on "Santa Monica," the final song of this show, it pretty much summed up a frustrating evening for the impressive Portland group. Call it the Vancouver curse, and blame it for two cancelled shows in the last two years and a rough night for the band this time around. Despite obvious effort from singer/songwriter/guitarist Art Alexakis and company, their performance was marred by forgotten lyrics, poor sound mixing, and just plain bad luck.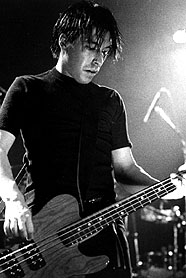 It all started well enough. Openers Nickelback had just finished kicking the sold-out crowd's ass with a surprising set, and the Beastie Boys' Paul's Boutique was played between bands to keep everyone happy. Then Everclear was ushered on stage, with touring guitarist Steve Birch, bass player Craig Montoya, drummer Greg Eklund and frontman Alexakis all dressed in black.
Without a doubt, Everclear appeared ready to blow the lid off the dump, and the fans were eager to hear both new songs from the recently-released So Much for the Afterglow CD and old favourites from 1995's Sparkle and Fade. But from the opening vocals in the title track to the new CD, I could tell something wasn't right. Maybe it was the sound man's fault, but Alexakis' lead vocals (and everyone else's backing vocals, for that matter) seemed lost in the swarm of guitars and percussion. I would have dismissed the problem as a "tuning up" of sorts, if it had disappeared, but it was something that persisted throughout the show.
There were other problems besides the disappointing sound mix. It seemed like something was off in the tuning of the instruments, and Alexakis' voice was definitely not at its best. Several times he held back in songs where he normally would have screamed, and when he did give it his all, it seemed like his voice box was under way too much stress.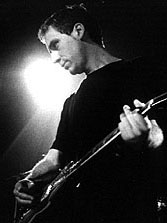 Alexakis even forgot lyrics to his own songs on two separate occasions: once during a strong track from So Much for the Afterglow, "Father of Mine," and again during the biggest hit from Sparkle and Fade, "Santa Monica."
Of course, the show had its highlights. Montoya, for one, was a pleasure to watch. Like a kid who was forced to follow his mom around the store when all he wanted to do was play in the toy aisle, he was a terror all over the stage, and often seemed restrained by his vocal responsibilities.
The fans at Graceland were very responsive to Everclear, and despite their problems, the band rocked. They managed to turn in strong versions of "Strawberry," "You Make Me Feel Like a Whore," "The Twistinside" and, Alexakis' personal favourite from So Much..., "I Will Buy You a New Life." Also worth noting were the new instrumental number, "El Distorto de Melodica," the band's current single, "Everything to Everyone" and crowd favourite "Local God," which was released on the Romeo and Juliet soundtrack last year and appeared during the encore. Notably missing from the set were "Heartspark Dollarsign" and my favourite from So Much..., "Sunflowers."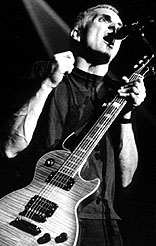 As mentioned above, the evening was kicked off by local grunge band Nickelback, who had an impressive performance despite their annoying radio single, "Fly." They displayed the right kind of energy for kick-starting a crowd, and made a good case for the survival of the grunge genre. Besides, it's never a bad idea to introduce a song by saying, "I had a mushroom trip recently, and it went like this." [ed. Though it is a bad idea to go on at 8:30, as Nickelback did. Especially if our photographer doesn't think they're going on until 10:00...]
In the end, I'm very reluctant to give Everclear a bad review, especially after lapping up the songs from their new CD like sweet cream. But I also think that the whole band, especially Alexakis, would readily admit that the Vancouver gig of 1997 was not a strong one [ed. though their in-store show at HMV Robson earlier that day was]. The good news is that Everclear returns to Vancouver in January (with Our Lady Peace), and they showed enough bright spots at this show to give local fans something to look forward to.
---
First published in Drop-D Magazine on November 9, 1997
Index | Search | E-mail | Info | Copyright

Considering copying some of the images from this story?
Please read this first. Thanks.