Love Scenes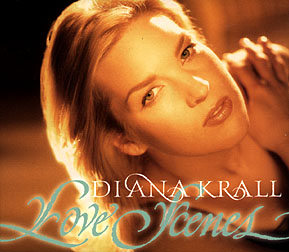 Diana Krall
Impulse / Universal

Review by Pieter Hofmann
---

The fact that Nanaimo-born, New York-based Diana Krall happens to be one of Canada's best jazz resources shouldn't come as any surprise to the people that have tracked her career. While all her recordings are impressive, Krall has continued to mature musically.

Her jazz is seductive -- though, granted, not extremely adventurous -- and Krall understands the importance of a tune. Her selection of material on Love Scenes is impeccable.

Following last year's All for You, a dedication to the Nat King Cole Trio, Love Scenes further explores the theme of love with satisfying results. Augmented by the first class playing of Russell Malone on guitar and Christian McBride on acoustic bass, Krall's piano playing is a smooth velvet glove of notes.

Her renditions of "Peel Me a Grape" and "I Miss You So" are particularly warm, while the 1932 Bing Crosby chestnut, "I Don't Stand a Ghost of a Chance with You" is pure seduction. Not a dud on this one.



---
First published in Drop-D Magazine on November 28, 1997
Index | Search | E-mail | Info | Copyright

Considering copying some of the images from this story?
Please read this first. Thanks.