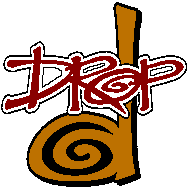 Drop-D Magazine
Vancouver's Music Magazine.

Good grief, January's gone already?!?

February 1, 1998 ~ Vol. 2 No. 35 ~ Issue 84
Features
Not That Clumsy at All
Everclear rock, while OLP make themselves hard to hate.
Live Review: Our Lady Peace / Everclear / Wellwater Conspiracy, GM Place, January 26, 1998
The Carnival Comes to Town
A tuba instead of a bass guitar? Hmmm, why not?
Live Review: Wyclef Jean / John Forte / Coolbone, the Rage, January 25, 1998
Rudolph the Red-Nosed Cod-Piece...
Had a very shiny... Er, nevermind.
Live Review: Blammo / Malevolence / Trike Wipeout, the Brickyard, December 20, 1997

CD Reviews
Ekykah Badu - Live
Duran Duran - Medazzaland
Finley Quaye - Sunday Shining 12"
Oasis - Be Here Now
Race - Self-Titled
Space Monkeys - The Daddy of Them All
Sweet 75 - Self-titled
Various Remixed Artists - Eurotic 3 (with a twist)
The Verve - Urban Hymns