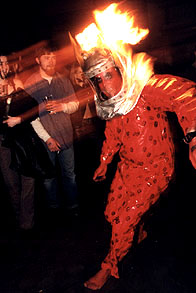 A Hot Date for Valentine's!
Blammo
with the Probes and Stick Monkey
The Brickyard
Vancouver, B.C.
Saturday, February 14, 1998

Review and photography by Suzanne Goodwin
---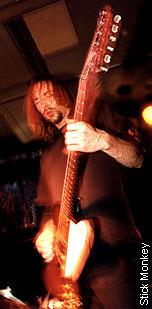 It was to a nominal crowd of apparently only friends and relatives that Stick Monkey had the honour of opening to this evening. Could St. Valentine's cherubs really have struck down so many with little arrows of love (or maybe guilt!?) that no one was left to come out to a show tonight? Too bad for them I figured, since gigs that include Blammo seem to be carving out their own niche in not-to-be-missed Vancouver experiences.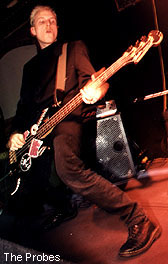 Regardless, Stick Monkey put in an energetic performance of punk-oriented tunes. While their stage charisma was minimal, strong vocals and tense, speedy guitar kept audience attention. A particularly hyperactive cover of Queen's "Stone Cold Crazy" was the highlight of their half-hour set and got a few bodies out of their chairs.
Looking resplendently dapper in their black suits and button-down shirts were the next band up, the Probes. Singer Michael's red silk tie was very apropos for the occasion, which fortunately saw a few more bodies file in and gravitate towards the floor.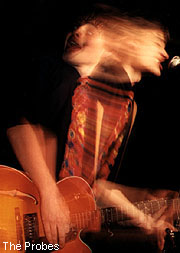 With a strong bottom of drums and prominent bass in the mix, the Probes proceeded to pound the room with a rockier punk-edged sound. Michael's unique vocals have a Bon Scott/Axl Rose (sans wailing) quality that gave them a more original sound even with their mixed musical style. A peppy performance and mirthful stage banter set the tone for the rest of the evening.
Literally turning up the heat was the feature act Blammo. Now, Blammo are one of those acts that are just best seen to be experienced. Much like their name, they are a visual spectacle of pyro and noise. Not that the music's bad, it's just sort of a non-style -- but it doesn't matter, since they're just so cool to watch.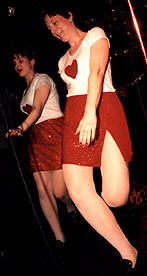 Jumping headlong into their raucous set, flame-headed and red plastic-suited Blammo singer Val streaked through the crowd just long enough for us to get a grip on just how crazy he appears to be. And that was only the beginning. Since being at the gig meant you probably weren't out romancing your sweetie, it seemed only fitting that Val would appear to us this evening as the Anti-Cupid, complete with horns, wings that almost worked, a lovely long forked tail and the (trademark) codpiece -- this time a devil's face with electric glowing eyes!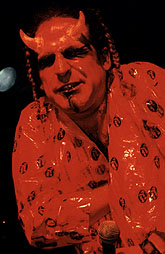 Of course, a beast like that couldn't have a heart, so before the Anti-Cupid was fully revealed from his red-plastic suit, he ripped out his blood-oozing heart before completely revealing his red self. Gross? Naaahhh, it was just too perversely fascinating.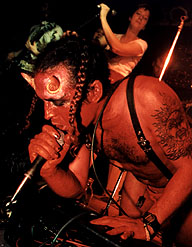 Backup singers and almost choreographed dancers, the Blammettes, were equally sparkling in their own right. Wearing matching little white and glittery heart appliquéd costumes complete with fishnet stockings -- yes, the boys did notice -- they were almost the anti-thesis to the Anti-Cupid.
Between the flame blowing interlude, confetti-laden heart-stopping bombs, fog and sparkle-spewing wall of guitars, Blammo's music almost seemed secondary to the whole act, a rambunctious cover of Boney M.'s "Rasputin" being the exception.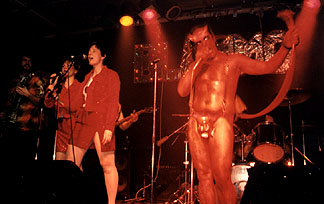 Oddly enough, Blammo is not that easy to describe, but the pictures should give you a clue. Just know that they're a visual feast with fake blood, laughter and lots of cool weirdness. They put a whole lot of effort into their show and did a fine job of entertaining the crowd.
A recommended Vancouver experience -- but don't forget you earplugs!
---
First published in Drop-D Magazine on February 28, 1998
Index | Search | E-mail | Info | Copyright

Considering copying some of the images from this story?
Please read this first. Thanks.