Lonely Hearts Hall Bands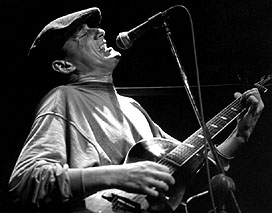 The Circus in Flames
with The Molestics
The WISE Hall
Vancouver, B.C.
Saturday, February 14, 1998

Review by Alphonse Leong
Photography by Rodney Gitzel
---

Ah, a Valentine's Day gig at the WISE: lovers openly grappling each other across sturdy wooden tables, unattached souls staring mutely from the shadows, and boisterous, half-drunken bands dishing out the tunes. Playing the part of the slightly inebriated entertainers this night were a seemingly odd choice, the Circus in Flames, and a perfect choice, the Molestics.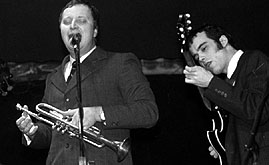 The perfect choice came on first. I've seen these guys a few times before and they always bring a smirk to your face even as you're tapping along to the strident swing rhythms. They're like crashers at an stiff charity ball. Not that there's anything lacking in their musicianship; there's just a ribald style to their whole performance.
Take frontman Mike Soret, for instance. This big bubbly guy can let loose some nice lines on his horn, but, with his white shirt hanging out and a Bart Simpson grin on his face, he comes across like the classic trouble-maker at a traditional jazz college. I was one of those in the audience who was glancing around and thinking 'How much has this guy been drinkin'!?', especially during a strange song in which he reeled off an extended tale about his overweight cousin's trials with men. It's the Molestics' style, though, as can be heard on their CD, Tropic of Hokum. In keeping with their devil-may-care ways, I don't think they played a single song from the disc, but the evening's material

was of a similar spirit: fun, danceable, and who cares if it's not like the way they taught it in school!
I was a little apprehensive when I saw the banjo and accordion being brought out as the Circus in Flames took the stage. But I didn't have to worry -- these guys rocked! With a bit of a Maritime flavour to their sound, this local five-piece really packed a punch, even if singer/guitarist Doug Andrew had a cold and was taking occasional sips of 'medicine' from a flask.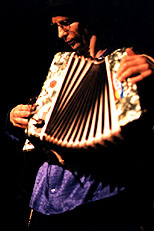 The stuff I really liked were their melancholy, yet strangely inspirational, uptempo ballads like "Good Night, Good Night" and "Middle of the Night." With an unrelenting beat set by drummer Everett Raeburn and upright bassist Bernie Addington, these songs wielded a groovy Gothic spell. The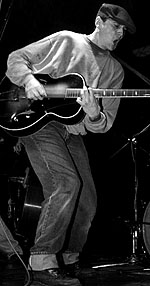 pieces were nice offerings for anybody feeling sad and lonely in the audience, particularly in the way that Andrew wrapped his smooth lamenting voice around the phrases.
But, hey, they weren't a downer's band! The dance floor was packed for most of their two sets and there was a good time feeling in many of their tunes, including "Live Wire" and "Freak Show." Andrew was pretty congenial, offering people swigs from his flask (I (I guess he was assuming the alcohol would kill off any of his cold germs!), and tipping his hat respectfully to his audience. But I got the feeling that there was a moody depth to this band, especially in their decision to cover "Pennies From Heaven" and the Sex Pistols' "Pretty Vacant."
So I initially thought the band wasn't a fitting Valentines' Day act, but I realized that the Circus in Flames' combination of sad tunes and raucous drinkin' numbers was perfect for a day that celebrates happy couples but that always has its share of lonely hearts.
---
First published in Drop-D Magazine on February 28, 1998
Index | Search | E-mail | Info | Copyright

Considering copying some of the images from this story?
Please read this first. Thanks.