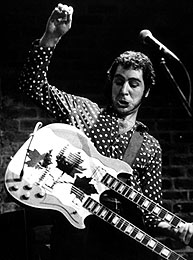 Double the Pleasure
The Rheostatics' Martin Tielli
Interview by Darren Kerr
B&W photography by Rodney Gitzel
Colour photography by Suzanne Goodwin
---

"Smoking is stupid, really. But I don't care about it."

So says Martin Tielli, guitarist non pareil of Canada's own beloved Rheostatics, as he lights up another ciggy. I wholeheartedly agree with him, and spark one up to commemorate this moment as Tielli's true colours show through: "It's a very nanny society. I don't like a government that tries to take care of its people, you know, worries about their health. What are they going to worry about next? Have you had sex? You can't do things that are bad for you. Whatever. Get out of my life."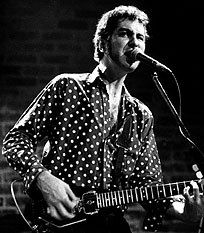 Yes, ladies and gentlemen, such is one facet of Martin Tielli, a man whose passion for cigarettes is more than matched by his love of performing, something that he and his fellow Rheostatics have been doing with much merriment, creativity and class since the eighties decade was suffering a mid-life crisis. The Rheos -- Tielli, guitarist Dave Bidini, bass player Tim Vesely and drummer Don Kerr (ably filling the departed Dave Clark's big shoes) -- have given us six albums of challenging, eccentric music and songcraft of the highest order. Perhaps the best testament to the band's unpredictability is the myth that they once spontaneously wrote their own songs around the titles from another band's set list. The question is, is it true?
"It happened in Winnipeg," recalls Tielli. "It was a set list left over from the night before, from a band called Steaming Muskrats who had great song titles like 'Jesus in a Speedo,' and we just made up songs to go with the titles. No one was there. It involved acting -- we made up this whole sort of opera where we were different characters."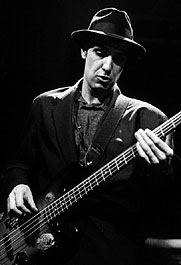 Don't believe for a New York minute that Winnipeg holds the monopoly on the Rheos' crazy behaviour. In fact, the home of the Red River probably pales in comparison to the home of the infamous 'Crocks and Rolls' -- Thunder Bay, Ontario.
"It was some sort of rock and roll Babylon," says Tielli with definite reverence. "It was, like, debauchery. It was a pretty odd place. You'd figure, you know, boys from the big city experience. Everybody's going nuts there. We're all naked in the snow, going to the corner store, me and Tim in our underpants buying cigarettes. Everybody taking off their clothes all over the place. It was scary."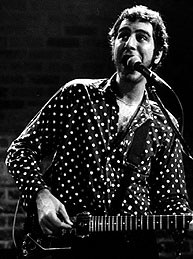 That was when rock was king, sleaze was knight and techno was just a pawn in the airplay chess game. Places like St. Catherines, Medicine Hat, Brandon, et cetera, were filled with rabid showgoers looking to reach brain roast via the loud rock experience. It's not like that, anymore, and bands either conform to the norm or drop like flies. Not so the Rheostatics. So what do they do that elevates them above the bands being swept under the carpet?
"We reached people at a good time, when people where really coming out, about '87," says Tielli. "And they stuck with us."
Watching their show last month at Richard's on Richards, I'd say "stuck with" is an understatement. During the chorus of "Horses," people all over the bar are maniacally yelling, "Holy Mackinaw Joe!!" in response to the same line sung by Bidini. Guest Veda Hille is communing with her keyboard, creating sounds that are as ominous as they are majestic. Tielli is wrenching sounds like ancient powerful ghosts from guitar by way of a maniacal whammy bar technique. Bidini is airborne. Kerr is pummeling bloody murder on his kit. The crowd is one smiling gyrating mass of contested flesh, and some shirtless ape is busting moves that haven't been seen since Jerry Garcia tore through "The Other One / St. Stephen" jam. The ape wants onstage very badly. Yeah, I'd definitely say this crowd has "stuck with" them.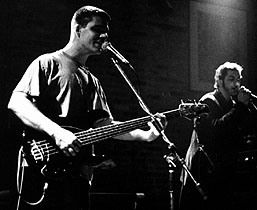 "Right now is a bad time for bands who haven't gotten a strong following during the last decade. It's a bad time to start unless you're some sort of advertising fluke. Musically, this band is still running its course. At times it's threatened to look like we'd done it all, it's boring, let's throw in the towel, but then something sparks up again, and that's good. I just don't think I could find better musicians to play with."
The Rheostatics' chemistry is such that they seem to function as a group mind, as one instrument, with each player symbiotic to the others' existence. Ebb and flow, loud and soft, good and evil, yin and yang. It's all about segues, transitions, build ups and peaks.
"It took us a long time to get into that space. Explaining what you want from the other guys, it's a lot of work. Some songs just sort of happen to fall together, and some you've got to be there. You know, you can't play in our band stoned. Music to me has never really been easy. It's a sweaty job."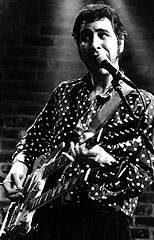 And sometimes the crowds don't help. "Tragically Hip! We want the Hip!" Imagine having audience of drunken frathouse-mentality sheep bellowing that mantra in your face while you're trying to kick out the jams. Such a display of ignorance was shown to the Rheos a couple years back at the Gate, a Vancouver club, when it was announced on the radio that Gord Downie and company were doing to make a surprise appearance during a Rheostatics show there. Sounds like one frustrating fiasco of epic proportions, doesn't it?
"I was affected by how they wrote about it in the paper the next," Tielli says with disdain. "The woman talked about it in a really awful way. But we had fun. It was really exciting, you know, the potential for mayhem was invigorating. I think Don crowd surfed for the first time in his life. We were ready for the Hip chants and stuff, 'cuz we knew it was going to happen. I think the club leaked it to the papers, although we would have sold it out anyway. It was just a drag because a lot of people wanted to see us and couldn't get in."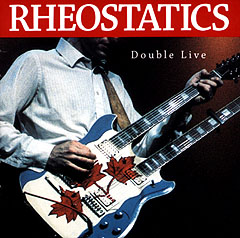 It's a real gamble when a band puts out a live album, let alone one that is double live, something thought to be a seventies anachronism. Double Live is the title of just that, a double-length collection of Rheos live performances taken from shows all across the country last year. It's cover photo, taken by Drop-D's own Suzanne Goodwin, grabs you right away -- it's Tielli playing a beautiful double-neck adorned with a Canadian maple leaf.
"I was thinking that what we would do for our live cover would be totally cliché," Tielli admits. "We'd have a live photo -- and we've never had a photo on any of our covers -- and when I saw that photo [on the web]... We were looking for a nice symbol for the album, something that has strong images, and the double-neck guitar's a weird guitar. I just didn't want me to be on the cover."
So off with his head. "I like a lot of Smiths and Morrisey covers where's there's like half a head chopped off. It's striking, you know, it's nice. The shirt looks like it's on the torso. It's more a picture of the shirt. There's an elegance to that photo that really grabbed me. It looks almost staged, buy you know it's not."
So, now, the last burning question -- any plans? "We have no plans. Nothing is slated yet, though Tim might go on tour with Ron Sexsmith in March."
But don't fret, folks. The details are very hazy, but there is a children's album -- and an animated special -- in the concept stage, and there's Tielli's solo project, Nick Buzz, being released. The Rheos aren't going away, so you will be able to catch the magic when they come to your pop stand.
Just remember that if I catch you screaming for the Hip, I'll put you in the trunk of a car.
---
First published in Drop-D Magazine on February 28, 1998
Index | Search | E-mail | Info | Copyright

Considering copying some of the images from this story?
Please read this first. Thanks.