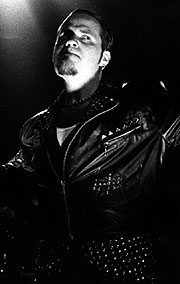 PRIEST!!! PRIEST!!! PRIEST!!!
Judas Priest
with Jar
The Rage
Vancouver, B.C.
Monday, February 23, 1998

Review by Michael O'Donahue
Photography by Rodney Gitzel
---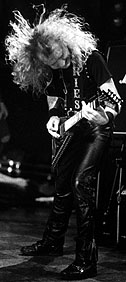 I was concerned about the Priest -- how does a two-plus decades-old stadium rock extravaganza band react to the small stage, no-frills, just you and the audience tour?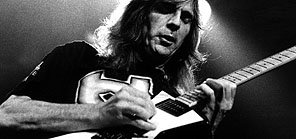 (Incidentally, I'm not one to deride a band for keeping on into middle age: what you do is what you do, and no one takes a poke at an old painter or old actor. The upside of seeing veterans play is that they're usually Old Pros who know how to pace a set, where to put the Hits and how to cover up the odd gap between songs while the guitar players tune up. Anyhoo...)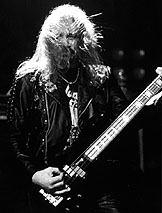 Of even greater concern was the New Guy, "Ripper." I saw Anthrax with their New Guy, and Stone Temple Pilots (now Talk Show) with theirs, and in both cases the results were lacking, so I held out little hope for Ripper, especially with his history as a singer in a Tribute Band. I needn't have worried, and I didn't need to be scared of seeing a young new guy who looks and sounds just like the old guy.
Ripper DOES sound like Rob Halford, but he also has his own twists and is a pretty fine front man. With high fives and smiles for the front and deliberate staring out to the farthest reaches of the hall, he worked tonight's sold-out crowd just like an Old Pro: "MAKE SOME NOISE VANCOUVER ALL RIIIIGHT!! VAAANNNCOUVER!! YOU... GOT... ANOTHER THING COMING!!" Of course it's weird when a new singer comes along, but the Ripper pulled it off with style and enthusiasm. I liked him.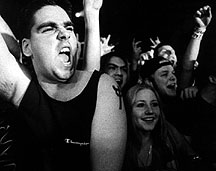 The show itself was rocking, the band stuck to the Hits, with only a couple of tunes from new album Jugulator early in the almost two-hour set. TWO HOURS -- I always like a band that
gives the faithful their money's worth. The hair was swingin', the dueling guitars were in full effect, the rhythm section was dyn-o-mite and the sound was excellent, especially considering the cavernous acoustics of the Rage.
No "Turbo Lover," unfortunately, but you got your "Screaming for Vengeance," "Breaking the Law," "Hellbent for Leather" and, of COURSE, "You Got Another Thing Coming." I didn't get the impression of this being a band going through the motions, thanks mostly to Ripper, as the old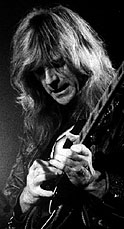 guys didn't come fully to life for a while. They did come to life though, and K.K. Downing was at the front of the stage wailing away on his guitar and mouthing the lyrics, smiling at the fans. Judas Priest appreciates their fans -- and well they should.
The showed kicked off with Vancouver's own Jar and their low-tuning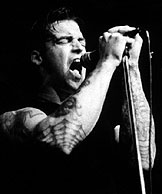 heavy thang. There was some good riffage going on -- very bombastic and arena-sized -- and lots of A-TI-TUDE, even if it came across as more hormonal than bad-ass. I don't think that muscles, tattoos, a potty mouth and I-don't-give-a-shit-'bout-nothin' hair necessarily make one a bad-ass, and they're no substitute for charisma. But Jar is young and there's still time to relax, turn down the testosto-meter, let the riffs do the strutting and give the kids a Show. If you're angry and you know it, you can still be entertaining.
---
First published in Drop-D Magazine on March 7, 1998
Index | Search | E-mail | Info | Copyright

Considering copying some of the images from this story?
Please read this first. Thanks.