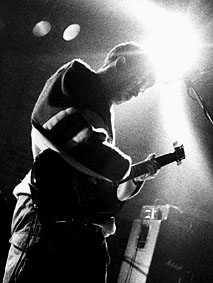 Lager, Nyquil, Speed & Ritalin
Space Monkeys
with Ivy
Richard's on Richards
Vancouver, B.C.
Tuesday, February 24, 1998

Review by Darren Kerr
Photography by Suzanne Goodwin
---

"City!! City!!"
So bellowed the lager louts, proudly half-pissed and clad in football jerseys (the chosen wardrobe of the pissed, as everybody knows). I'm not sure what the "city" chants were about; when I last checked, Manchester wasn't the only city in England -- but the way these Manchester lads were going on you'd think it was.
Poor Ivy. Having to play when these same grand pillocks are shouting "Oasis!!" at them after every song. The band was way too passive to tell them to shut the fook up. Nope. Sensitive, guitar-driven lounge pop is what Ivy are majoring in.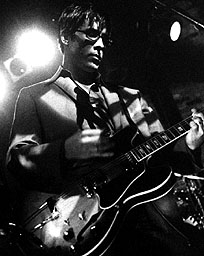 They had a very good overall sound, save for the singer, who could have been the poster child for Nyquil. Which is fine, if your talent belies your narcolepsy. Hers didn't. The keyboard player, doubling as horn section, definitely won the MVP award with his nourishing trumpet breaks and well-chosen harpsichord and marimba presets.
Quite a few people in the crowd really liked the band, throwing around comparisons like Stereolab, the Cardigans and Nico. Nico? I didn't hear anyone who sounded like Madeleine Khan doing Marlene Dietrich. But if they dipped the singer's Curly Wurly's in crystal meth, they might be on to something.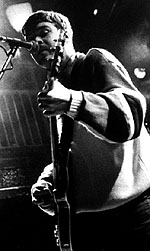 Speed is something that the Space Monkeys have in abundance. BANG! They're off like a rocket. A flurry of guitar riffs, machine gun drum fills, turntable scratchy scratchy and bouncing boogie bass like a cranked-up Stone Roses, or Oasis hopped up on the brothers' chemicals.
The band careened through "Acid House Killed Rock and Roll," with much of the manic insanity created by the keyboardist's scattershot samples and whirlygig synth flourishes. Both "Bringing Down the Stylus" and "Ready for the Rampage" had a bass sound that was larger than life and propulsive as hell, a sound to kill for. Meanwhile, Richard McNevin-Duff's hyper helium whine fell somewhere between Oasis' Liam and Supergrass' Gaz.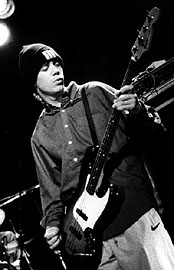 The Space Monkeys also unveiled a couple of songs that aren't found on their debut album, The Daddy of Them All: "Sweeter Than the Chill Out Room," benefited from hard reggae rhythms, while "Dreamcatcher," though boasting a groove as elastic as the Chem's "Block Rocking Beats," suffered from a sound mix that buried the vocals alive.
I was impressed by this young band who made me crave Ritalin just listening to them.
But one word of warning you fucking monkeys! The pathetically short set (which inspired one show-goer to yell "Thanks a lot for the twenty-seven minutes of European rock and roll!!") you guys pulled off didn't cut it. You're not the bloody Jesus and Mary Chain, and if you continue to rip off the people who paid hard-earned coin to see you, pretty soon people won't care if you're the Space Monkeys, the Space Maggots, or whatever. You'll just be a waste of space.
---
First published in Drop-D Magazine on March 7, 1998
Index | Search | E-mail | Info | Copyright

Considering copying some of the images from this story?
Please read this first. Thanks.