Two Rainbows and a Grey Suit
Joe Henderson's Double Rainbow Quartet
with the Roy Hargrove Quintet
Vogue Theatre
Vancouver, B.C.
May 19, 1996

Review by Greg Mittag
Photography by Rodney Gitzel
---

Vancouverites were recently treated to a jazz double bill featuring a venerable jazz master together with one of the rising stars on the New York scene. Folks were out in their finest threads for this final concert in the International Jazz Festival's preview series.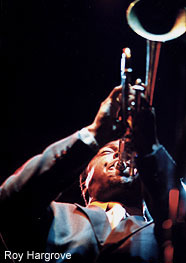 (Brief aside: There's no question that the Vogue Theatre is a great venue, as far as acoustics and sight lines are concerned, but could the seats be any more cramped? I pity anyone spatially challenged trying to squeeze into one of these antique chairs.)
The crowd welcomed Roy Hargrove and his Quintet with enthusiastic applause. Along with Joshua Redman and Christian McBride, the 27-year-old Hargrove has been making a name for himself in the neo-conservative movement currently holding sway in jazz.
Attired in a sober grey suit, the trumpet player opened his set with a long solo laid over a backdrop of Latin rhythms. Some very good saxophone by Ron Blake and aggressive drumming by Karriem Riggins kept things going lively. The very tall Blake, who physically dwarfed his leader on stage, mixed straight and wailing styles to good effect.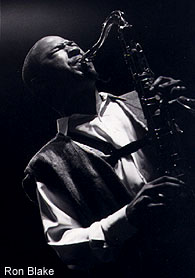 Unfortunately, the piano riffing behind the soloists was strictly clichéd. It's interesting that the musician most clearly taken to its bosom by this audience, pianist Charles Craig, struck me as consistently mediocre. His Waller/Basie-ite tinkling on the second tune of the evening didn't excite me any more than his block chording on the set encore, "September in the Rain."
Bassist Gerald Cannon, at 37 the senior member of the Quintet, delivered nimble-fingered solos whenever he wasn't giving solid (if undermic'd) support. For me, he was the most impressive musician in this part of the program.
Hargrove's improvising on flugelhorn during "Roy Allen," a song dedicated to his father, was his best of the evening. At other times, his ideas seemed uninspired. There were very few surprises in his playing, unlike Blake's.
It should be mentioned that the crowd loved Hargrove and gave his band a standing ovation - undeserved, in my opinion. He responded with the vocal encore, "September in the Rain," which revealed a pleasant voice. The scat ending, however, was a bust.
On the other hand, Joe Henderson took the concert to another level. This veteran tenor saxophonist is, at age 57, playing at his peak. After a 1991 comeback album, Lush Life, and an even better follow-up, So Near, So Far, Henderson recorded a tribute to Brazilian composer Antonio Carlos Jobim. This bossa nova icon, best known for "The Girl From Ipanema," has never interested me, and I found Henderson's album, Double Rainbow, comparatively weak.
In concert, however, it was another matter. Standing hunched over the microphone like a bird of prey, Henderson offered one brilliant solo after another. His playing was wonderfully relaxed, and every phrase seemed to follow logically from the one before; this stream-of-consciousness improvisation is what the best jazz is all about.
Henderson can spout boppish runs in the Charlie Parker manner when things are uptempo and spicy. He also knows how to bring a song to a close with a beautiful solo coda. Time and again, I marvelled at the man's warm, full tone. By moving the bell of his instrument at the mic, he shaded the sound to suit every phrase, and during a short duet with pianist Helio Alves, the sax's tone was almost pleading.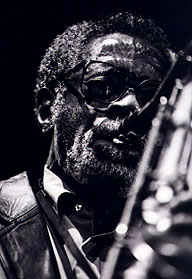 Brazilian Alves had a firm handle on the rhythm throughout, without trying to draw attention to himself. There was much more flow to his lyrical playing than Craig's in the previous set. Double Rainbow percussionist Paulo Braga could easily be mistaken for a swing drummer with his unobtrusive but rock steady playing. And, during his solo, Braga showed he could also be quite exciting.
After an hour long performance, Vancouver gave Henderson a standing ovation. The group encored with "Take a Train," wherein Henderson saved his best for last, blowing his most adventurous soloing of the evening. Alves did some Ellingtonian comping behind the leader, although his own piano solo was quite unDukish.
It's too bad that Joe Henderson only played for 70 minutes: I could have listened to him all night. But, anyone who attended Sunday night's concert got to hear a master jazz artist at the top of his form. We should all hope for as much creative juice and grace at his age.
---
First published in Drop-D Magazine on May 30, 1996
Index | Search | E-mail | Info | Copyright

Considering copying some of the images from this story?
Please read this first. Thanks.