Heavy Mental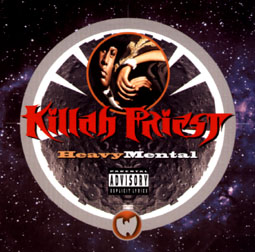 Killah Priest
Geffen

Review by Darren Kerr
---

These days, too many rappers are trying to be Max Julien in the The Mack, gangstas with their eyes on the prize, trying to be Superfly in their own blaxploitation flicks. The ones who suck the hardest are usually the ones who moan the loudest about how the world oppresses them. They've got the flash trash mouth and all the fly gear, but no skills and no substance.

Killah Priest is not one of the above. He is the most cerebral of the Wu Tang Clan: a space prophet, Sun Ra without the tin foil suit, carrying on the same vibe as X-Clan, but deeper and with more detail. He is all about linguistics and dexterity and intergalactic social alchemy.

On "From Then Till Now" he lists off what black ancestry meant -- the illustrious princes and prophets, guardians and gods with swords, mythical gardens, knowledge and respect -- juxtaposed with the now -- crack, crime, illiteracy and resentment. "Mystic City" asks, "What will we do when the smoke clears?" and is a diatribe of hope, of future accomplishments and of hope in the aftermath. "Science Project" conjures up visions of chemicals, combustion, the mechanism of guns, dying brain cells, and the coagulation of blood. (Tompkin, Park Hill, Stapleton, Bushwick... all the projects are the 'science' projects.) "Information" speaks of progress paranoia in a not-so-distant world where skin is coded and TV watches you as it sends signals to the Man.

Equally innovative is the CD's trippy and lush production by 4th Disciple, True Master and the Arabian Knight. Piano sounds are sparse and naked, with words hanging from them like silk shirts on a barbed wire fence. Words echo in all the right places, and all travelers arrive back on terra firma with their mental voids filled.

A fantastic disc. Even without the contributions of Wu heavyweights Inspector Dek, Old Dirty Bastard and GZA, it would still be a work for all tenses -- past, present and future.



---
First published in Drop-D Magazine on April 11, 1998
Index | Search | E-mail | Info | Copyright

Considering copying some of the images from this story?
Please read this first. Thanks.