Givin' It Back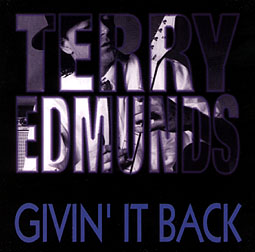 Terry Edmunds
Independent

Review by Gary 'pigboy' Swartz
---

This is the hardest kind of CD to review: a journeyman blues guitarist's tribute to the music he, and a lot of us, love. Why hard? There is a competency to it that's impossible to fault, and just as impossible to get excited about, that leaves you saying, "So what?"

To his credit, Edmunds wisely avoids the pitfall of inundating the listener with too many originals, and limits himself to just two: "Gimme Some Lovin'" and the instrumental "Givin' It Back." The cover tunes are from the kind of influences one would expect a guitarist to have -- the Kings, Freddy and Albert, Johnny and Jimi, as in Hendrix and Winters, and the like -- but are not tunes that have been done to death. "For the Love of a Woman," "Big Leg Woman" and "Rainy Day" are hardly tunes in the average blues fans lexicon.

The guitar work and singing are as equally thought through and careful. It's obvious the guy has the chops. But there's an elusive element, call it the blue note, that Edmunds somehow fails to achieve, although "Play the Blues for You" comes close.

The liner notes say that the CD was record at the Yale. And maybe that's where the problem lies. Either the audience was told to be quiet because a recording was in progress, or maybe Edmunds opted to err on the side of caution. A bit of cigarette smoke, the clank of beer bottles, the shuffling of feet, some applause and a feeling of rapport might have gone a long way to helping the performances here push through the envelope.



---
First published in Drop-D Magazine on April 11, 1998
Index | Search | E-mail | Info | Copyright

Considering copying some of the images from this story?
Please read this first. Thanks.