Ethnic Howl, Prog Crickets and Runaway Trains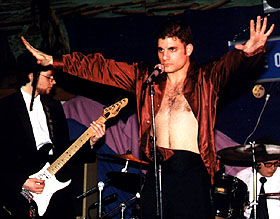 Big Yellow Taxi
with Big Tall Garden and Duke of Medulla
Maritime Labour Centre
Vancouver, B.C.
Friday, March 20, 1998

Review by Darren Kerr
Photography by Rodney Gitzel
---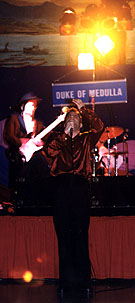 The Maritime Labour Centre is a cavernous auditorium with surprisingly good acoustics. However, that's it's located in a deserted (at night), prostitution-laden part of East Van might accounts for it's not being used as a venue, much, and for the surprisingly small crowd turnout at this benefit for Vancouver's Co-op Radio (CFRO, 102.7 on your FM dial). Which is too bad, both because the station needs all the support it can get and because I'd be hard-pressed to come up with a more diverse lineup of good Vancouver bands.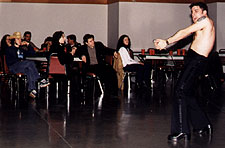 First up was the eclectic kabab music of Duke of Medulla. Fronted by the grandiose Bishop, who pelvic-thrusted, gyrated and cossack-kicked his way through the entertaining set, the Duke play strange, gallumphing, operatic rock music which is heavy on carnival keyboards and lurching sturm und drang rhythms.
They kicked off the set with "Engine Fever," a methamphetamine western ditty, real mescaline hoedown shit. For the next song, Bishop leapt off the stage and commenced dancing, the likes of which I haven't seen since the Fonz was threatened with a crew cut at the dance marathon. Like James Brown after a lengthy exile in Corfu. Accompanied only by drums, guitarist Reverso Blotto then did a tasty solo turn with some picking and grinning straight from the Roy Clark songbook -- no easy feat.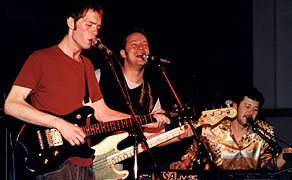 After that, Bishop took to the floor to say hello to the gathered throng of people. "This Leg is Comin' Off" was more bizarro hoedown music, and "Electric Steer" was reminiscent of Primus' "Wynonna's Big Brown Beaver."
This weird mix of ethnic howl and weirdo rock works because Bishop has an incredibly powerful (and trained) voice -- and also because the band is so friggin' tight. What, me and Robert Dayton agree on something once again? Sure another sign of the apocalypse, folks.
Big Tall Garden have been around for at least seven years, and have a reputation as North Shore legends. To tell you the truth, what I'd heard led me to believe this was going to be some pedestrian DeadHead fodder, but what I got as an intriguing blend of European prog rock and weird psych folk reminiscent of no one.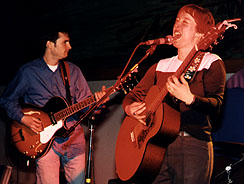 The band opened their set with a very full and trippy instrumental which had the guitar doing sweeping waves of melodic feedback, with delay full-on repeating until it sounded like scores of crickets. Synths were like whirling sirens mining an E.L.P./Pink Floyd vein, but there were no flaming knives or inflatable pigs to be found. Guitarist/vocalist Duane Murrin looks a Don Knotts/Peter Gabriel hyrid, with arms and legs akimbo, but, like the band's music, I can't define Murrin's voice. I have failed at coming up with a comparision -- which is a quite abnormal thing for a music critic. Neil Young, Giles Zolty and Peter Hammill were all suggested, but... nope.
The songs themselves were built around intricate chords and severe tempo changes that, at times, were too clever for their own good. (As with a lot of progressive bands, sometimes a roadmap is needed to understand how they are getting from A to Z while mocking the rest of the alphabet.) "Chronicles of Publius" and "Crow" were given the instrumental bombast treatment. The former was especially killer, with more hooks than a Hellraiser sequel and a stunning coda. A lot of people in the audience looked like headlight-frozen deer, not sure how to react to this challenge.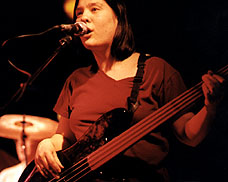 Big Yellow Taxi are a four-piece who are getting fine press around town lately for a very good reason: they are a keister-kicking country rock band. Tonight we had it both ways, twangy simmering folk balladeering and spinning-out-of-control hayride. They had people stomping, hootin' and a-hollerin', and alamand-leftin' with wild abandon.
Some of the Big Yellow Taxi's songs reminded me of K.D. Lang when she used to hang with the Reclines and wear crinoline skirts and cowboy shirts. The singer had a very strong voice, whether she was singing soft insights or belting out truths. She exuded a natural, down-to-earth confidence which I found very alluring. I was equally captivated by the lead guitarist's emotional guitar playing, which conjured up both the simplicity of Robbie Krieger and the vulnerability of Quicksilver Messenger John Cipollina.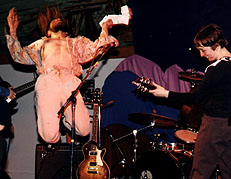 During one chugging-train-like number, the whole band showed that they were running on top-of-the-line spark plugs and hi-octane gasoline when they increased the speed to such a fevered pace that the exhausted dancers were relieved to see the caboose finally come into view. The rock solid rhythm section made certain that every transition or sudden acceleration had flow. A fine band which I hope is able capture their magic on record. When I hear the disc I'll let you know...
I don't want to lose sight that this was a benefit for Co-op Radio, are one of the few bastions of individuality left in a radio universe lorded over by elitist, narrow-minded sheep herders. They need your money, your support, your assistance. In return, they will continue to give you a radio station untainted by shallow playlists, format politics and demographic rating percentages. I'd buy that for a few measly dollars. Can you dig it?
---
First published in Drop-D Magazine on April 18, 1998
Index | Search | E-mail | Info | Copyright

Considering copying some of the images from this story?
Please read this first. Thanks.