The Elephant Riders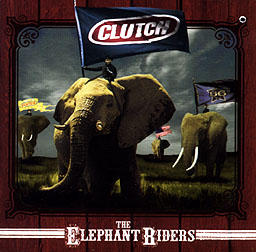 Clutch
Columbia

Review by Darren Kerr
---

Straight outta Germantown, Maryland, Clutch's first albums, 93's Transnational Speedway League and 96's self-titled offering, are primo Cookie Monster groove. Their Zen shitkicker attitude, southern Sasquatch riffs, and lyrics that shun gothic angst clichés are a welcome respite from the bell jar that the majority of heavy rock's angry young razor bearers reside in.

The band's subsequent move to Harper's Ferry, West Virginia is reflected in every aspect of The Elephant Riders, from cover concept to song lyrics. Whereas their last album had an interstellar motif with songs "Spacegrass," "Droid" and "Escape from the Prison Planet," The Elephant Riders has its feet planted firmly on terra firma with Civil War-era tracks like "Ship of Gold," "The Soapmakers" and the title track.

A bizarre thing has happened to singer Neil Fallon's voice since '96, too. It's starting to sound more like Paul Stanley and less like Country Dick Manitoba. I don't know whether this is just a natural progression or if producer Jack (Aerosmith/Cheap Trick) Douglas told him, "Go toward the mainsteam my son." But don't worry, me hearties, it's just a personal bitch. The patented Clutch buzzsaw groove machine is indeed fully operational.

The rhythm section of Dan Maines and Jean-Paul Gaster, on bass and drums, respectively, still packs clout, and Tim Sult has streamlined his mighty guitar riffs for maximum density. Dig the wicked gallumph of "The Dragonfly" for the heaviest song about pond life since Mountain sang their praises to the swan. "Green Buckets" is a sincere personal ad from a man promising true love, beer and chowder amidst the recycling boxes.

The Elephant Riders suffers a bit when you compare it to the band's past glories, but, hell, it's still Clutch, and that alone is enough to shift me into high gear.



---
First published in Drop-D Magazine on April 25, 1998
Index | Search | E-mail | Info | Copyright

Considering copying some of the images from this story?
Please read this first. Thanks.