The Hymns of Sorrow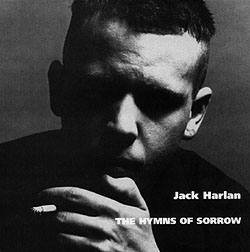 Jack Harlan
Independent

Review by Gary 'pigboy' Swartz
---

I suspect that the best way to get introduced to the music of Vancouver's Jack Harlan is in a small club with too much cigarette smoke, not enough flickering candles (stuck in old Chianti bottles) and just the right amount of cheap red wine. On plastic he's just too imitative and there's not enough else happening to distract you from that reality that Dylan, Cohen and the sparse Springsteen have done this kind of stuff a lot better. The vocals, lyrics, melodies phrasing and arrangements all have a cookie cutter feel to them.

Too many singers and songwriters have gone "Down to the River." On "No Friend I've Known," I spent more time trying to figure where I'd heard stuff before than on listening to whatever it is Harlan wants to say. Will the real Jack Harlan please stand up? To be fair there's something compelling about "Drive" that raises the hope that Harlan can find his own voice. Doubtless the talent is there. The ability to spin lyrics that speak volumes. Et cetera.

But none of that is all that rare. (One has the image of there being, someday -- a long time coming, one hopes -- legions of Dylan imitators, à la today's Elvis imitators galore.) So for now I'd stick to seeing Harlan live, and cling to the hope that he'll discover there's an audience out there that will be glad to see him do his own, distinctive, thing.



---
First published in Drop-D Magazine on May 29, 1998
Index | Search | E-mail | Info | Copyright

Considering copying some of the images from this story?
Please read this first. Thanks.