At Rope's End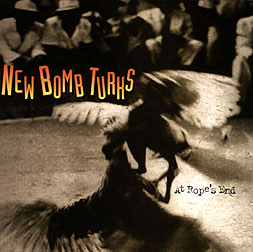 New Bomb Turks
Epitaph

Review by Michael O'Donahue
---

Always crazy punk, Chicago's New Bomb Turks are now starting to reveal their roots. As the punk rock dye grows out, a definite rockabilly rebel hue is becoming more and more apparent.

It's always heartening to hear a band grow and expand their musical palette without losing the things that made them cool in the first place. (That's how you can tell a band that's Evolving from a band that's Trying.) Organs, pianos and horns have been added, here, but not to worry, Turk Fans, because this is still the same band. The New Bomb Turks still Rock and Kick like a tornado and singer Eric is still a madman with a pen and microphone.

At Rope's End sounds almost like New Bomb Turks' version of Exile on Main Street -- a distillation of their past combined with all the stuff they've always wanted to try, but for which they never had the budget, time or plan, even simple things like extra musicians and big backing vocals. The subject matter, lyrically, dwells a fair bit on themes like sticking to your guns, going straight to hell, and sticking to your guns anyway; "I lose my mind just to keep it lost/ Go for broke at any cost/ Give no excuses for my dead end plan" is pure Rock Rebel in the finest tradition.

(I feel better knowing that, in these conservative, button-down, squeaky clean and desperate times, there are still people out there swaggering around not giving a tinker's damn about anything -- musically, at least. Maybe popular culture is finally, slowly, recovering from the Live Aid/Joshua Tree hangover. It sure took long enough -- yeah, life is Serious and the End is Near, but you're still Nothing If'n You Don't Rock. Whatever's wrong with this planet, and your life, it's not the New Bomb Turks' fault, so mamma let them boys play some rock and roll. Hallelujah!)

I've always been a sucker for good song titles, and "Minimum Wages of Sin" and "Cure for the Common Cold Shoulder" are a couple of winning handles for a couple a couple of real standout tracks. I would also like to take a moment to commend the band on their guitar sound: raw, grating, up high in the mix, but without that fuzzy, buzzing distorto sound that is apparently supposed to denote Rock Consciousness. Rock and Roll Guitar doesn't come out of a box -- it comes from the player and the gear he or she is pushing beyond its factory specified limits.

It's hard to figure it without hearing them, but New Bomb Turks just sound like the Real Thing: 100% natural, this is what they do. There's little or no apparent pretense or attempt to hang their hats on a trend that may or may not make them Big. They're the New Bomb Turks, they're good, they'll rock your ass and At Rope's End hasn't left the CD player much since I got it. One of the best live Rock and Roll bands on Earth, one of the best Rock and Roll albums you're going to hear this year.

Go buy their album, go see them play next time they come and, please, thank God for the New Bomb Turks.



---
First published in Drop-D Magazine on May 29, 1998
Index | Search | E-mail | Info | Copyright

Considering copying some of the images from this story?
Please read this first. Thanks.