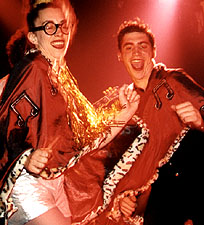 The Twist. The Jerk. The Toad.
The New Pornographers
with July Fourth Toilet and The Lindsay Davis Story
The Columbia Hotel
Vancouver, B.C.
Friday, May 8, 1998

Review by Darren Kerr
Photography by Rodney Gitzel
---

I was talking to Phil Oats at this show and we both agree that Carl Newman can do no wrong. I'll be damned if I'm going to apologize for this bias. Superconductor's Bastard Song topped my Best-of-96 list, and Zumpano has been the soundtrack to more than a couple of sunny afternoon stonefests. You can now add the New Pornographers to this esteemed group of Newman-fronted bands.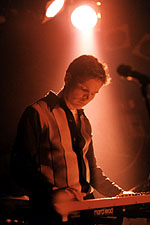 I overheard some less enlightened soul say, "He has the range of a toad." It's sad what too much crack will do to one's hearing. Sorry Charlie, but if Newman sounds like a toad, then all I can say is let it rain frogs, 'cuz it's Carl's voice that does it to me. It has the essence of Buddah Records, ageless AM radio, teenage fantasies in the innocent years. I don't want to fall into the realm of indie fanboy pandering, but that voice approaches pop perfection.
I think this was the New Pornographers' second show, so the band's potential wasn't fully realized yet, but the elements were all there: the bite of the two guitars, excellent drums, cool organ and synthy bits, and John Collins' bass playing. At full bore they had a sound similar to Supergrass (Carl's falsetto is easily as good as Mickey's), while at other times they came across as something weirder. The arrangements were a little bit more strange and the melodies a bit harder to grasp. The other guitarist sang one song in the thick accent of a demonic British acid casualty, like Syd Barrett channelling Oliver Twist's Fagin.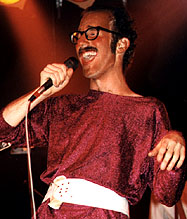 I had to leave about six songs into the show due to the usual transit blackmail, but I left knowing that, while I'm patiently waiting for all the members of Superconductor to congregate in the same room, I've got the New Pornographers to make the wait a bit more interesting.
July Fourth Toilet. I wanted to hate them. I wanted to hate them for all the people whose bands Rob Dayton blew off by describing them as "XYXYXYXYXYXYXYXYXYXYXYXYXYXYXYXYXY" when he was in a chromosomic mood. I wanted to hate them for every time Dayton takes something that people put their heart and soul into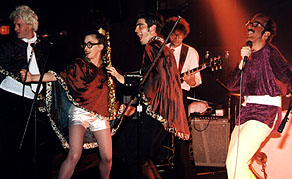 and dismisses it with some stream of consciousness bullshit in his Nepotism City columns, which tend to be totally devoid of any kind of charitable act like constructive criticism. And by all accounts of the band's previous shows, hating them would be easy, as they tend to be crapcrapXXYYcrap. But though I wanted to hate them, tonight I couldn't. They were just too enjoyable.
They walked onstage like the Edwin Hawkins Singers after a few spiked Sunkist oranges. Happy happy happy! Tonight's theme was Fifties Rock Revival -- with emphasis on revive. They came across as the Mothers of Invention sans Zappa doing the Commitments, with Dayton playing the Roy Estrada part of master of ceremonies/game show host. His stage presence has to be seen to be believed. He was like someone on the Gong Show who knew he was going to win because he'd bribed Jaye P. Morgan and Rip Taylor.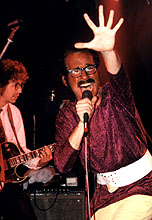 The rest of "the Toilet" were straight out of $1.98 Beauty Contest. One guy looked exactly like Are You Being Served?'s Mr. Humphries. They did "Land of a Thousand Dances". They did the Twist. They did the Jerk. Their version of the Freeze was bloody hilarious. The whole band would freeze during the chorus with these ridiculous someone-just-shoved-a-frozen-candle-up-my-ass facial expressions. The actual musicianship was better than I expected. The horn section was dubbed "the Marijuana Brass" and they were fairly tight. The one trumpet player even resembled the suave trumpet player who was screwing all the girls in The Commitments.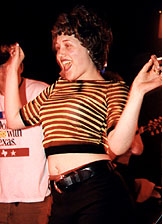 In the middle of the show it was dance contest time. Two guys and a girl (with a beehive hairdo and a bottom worth going to war over) all vying for the big prize. Contestant 1 danced like Squiggy lookin' for action. Number 2 just went apeshit. Number 3 shook that lovely bottom like she was dancing in a Russ Mayer film. Number 2 won, and was beaming as he received his prize: gold dancing shoes.
The bands tonight were being filmed and shown on the bar's TV sets. On television it was like you were watching an old sixties variety show. I wish I had seen July Fourth Toilet's performance of Tommy at the Old American a few years back. That would have been an amazing journey.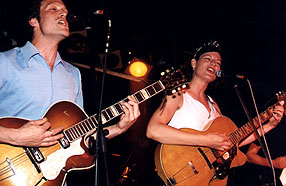 Opening this extravagant night was the Lindsay Davis Story, the ex-Colorifics singer's new band. You could tell this was their first show, as there were a few botched parts and some miscommunication, but no harm done. They played pleasant poppy ditties that went from loungey samba to a more traditional early British pop sound (the bass player in particular was well-versed in Beatle-esque melody).
Musically I could probably compare them to Zumpano but with less ideas. They did one song which sounded like a Mamas and the Papas song "Creeque Alley." Another song had guitar rhythms like "Willie and the Hand Jive." They weren't as tight as the Colorifics, but I didn't expect them to be. Down the line they will be.
---
First published in Drop-D Magazine on May 29, 1998
Index | Search | E-mail | Info | Copyright

Considering copying some of the images from this story?
Please read this first. Thanks.