Two's Company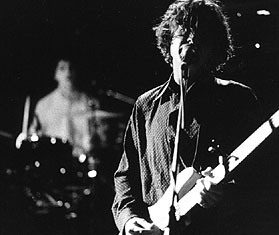 The Inbreds
with the New Pornographers and Bossanova
The Starfish Room
Vancouver, B.C.
Saturday, June 20, 1998

Review by Alphonse Leong
Photography by Rodney Gitzel
---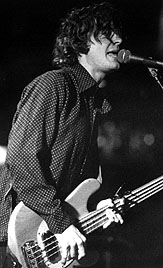 On this night, the fewer musicians the better. The Inbreds (just the two of them) proved that you need just a good groove, an emotive voice and well-crafted songs to move an audience. Not two keyboards on stage, for God's sake, as the opening bands would have you believe!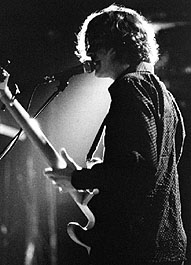 The quirky and lovable duo from out East opened their set with "Attitude" (from their latest CD, Winning Hearts) and, as always, I was amazed by the density of sound generated by just two guys. With his trademark teenagerish vocals and incredibly melodic bass stylings, Mike O'Neill is one of the coolest frontmen in Canadian music; with long, dread-locky blond hair covering his eyes and a cool Jimmy Page-like expression on his face, he was a hit with the girls pressed against the stage, who were entranced by his every move (he was even given a Hawaiian lei). On "Any Sense of Time," his voice took on a heart-wrenching tone that echoed Paul Anka's pipes during his teen idol days.
I'm emphasizing the teeny aspect of the show because there is a fresh-faced innocence about an Inbreds performance that encompasses everything from the material (such as "Prince,"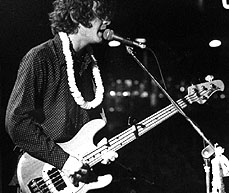 about a boy's yearning for his toy dog to be real!), to the innocuous stage patter ("Are you putting everything into each note, Dave?" "Oh, I definitely am, Dave.") It's quite refreshing. And no bludgeoning the audience with cheap theatrics or egomaniacal gestures.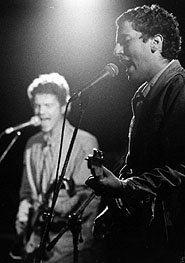 But, hey, O'Neill is no boring performer! He got down on his knees and bent his back to the floor when the mood hit him, but the crowd smiled appreciatively because you could tell it was just fun and not some contrived move. And you didn't really miss a guitar player, because O'Neill melded cool distorted riffs seamlessly with clean pulsating bass lines, especially on "You Remain Untamed" and the moving "Grandfather's Heater" (this song from their first album is a touching gem about a heater being reunited with its owner in heaven -- call me sappy, but it really got to me!). Drummer Dave Ulrich basically just sits back there and keeps time, but he does have a geeky charm ("Uh, I'll be over there if you want to buy t-shirts or whatever and, uh... bye," he said after the final song). The combination of the two personalities makes for one of the most extraordinarily engaging acts out there.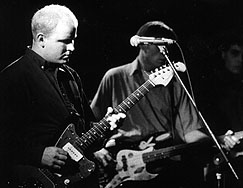 Openers Bossanova and the New Pornographers both tried for a meaningful, portentous sound, the former a bit more successfully. Both bands' keyboards definitely brought back 80's memories, especially on a long OMD-evoking number from Bossanova. The New Pornographers were a bit scruffy (even the guitarist admitted at set's end, "sorry, we weren't that tight, tonight"!), but they had some interesting rhythms coupled with brief moments of gutsy vocals. Really, though, for all the gear the two bands brought, they didn't really bring the solid songs and musicianship that the Inbreds did.
---
First published in Drop-D Magazine on December 5, 1998
Index | Search | E-mail | Info | Copyright

Considering copying some of the images from this story?
Please read this first. Thanks.