Forbidden Black Market Bitches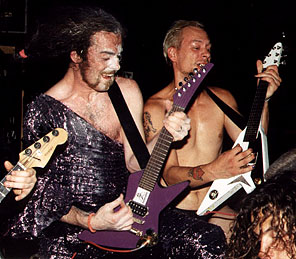 The Muscle Bitches
with Forbidden Dimension and Black Market Babies
The Starfish Room
Vancouver, B.C.
Saturday, July 20, 1996

Review and photography by Rodney Gitzel
---

Perhaps it was meant as an anti-dote to Foxfest -- and the Folk Fest. Right smack dab in the middle of festival mania, there it was, at the Starfish, a bill featuring three of the... differenter... bands around.

First up, with a tug of the neck chain, were Black Market Babies, Vancouver's answer to... well, something. A behemoth describable only as "Igor" dragged vocalist Billy out onto the stage and stood behind him as the band tore through the first couple darkly hard tunes. Satisfied, he stalked off the stage, leaving the band relieved, to the point that they lost a bit of their energy (Billy admitted later this may have had something to do with the oxygen deprivation he was dealing with from his neck chain... ).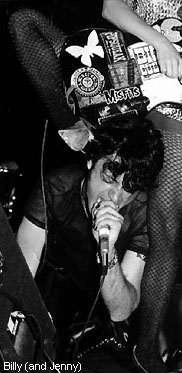 Flanked by the diminutive guitarist Jenny ("she's filling in") to his right and a tall giant of a guitarist on his left, Billy lurched through the set, proving, at least, that the BMB's belonged on this bill. Writhing on the floor, Billy croaked out his vocals, with Jenny standing on his chest, her eyes swirling in their sockets. The set picked up again near the end, and a cover of "Sonic Reducer" saw Billy wrap the mic cord around his neck a half-dozen times. Maybe he performs best that way.
Calgary's resident surf ghouls, Forbidden Dimension, have been doing their thing for so many years that it's hard to remember them way waaay back opening for Kelly "Loved One" Simpson's old band -- what, seven years ago? They haven't really changed much, either -- the CD's and 7" EP's they are regularly releasing are no different than those of years ago: solid and melodic surf grunge, with happily gruesome songs about serial killer lovebirds. Fun stuff -- we're not talkin' Danzig, here.
The band has changed, however. Yowler Jackson Phibes and drummer Carl Pagan are still mainstays, but bassist Lars Bonfire, however, was recently abducted by an alien cargo freighter and had to be replaced. Being Calgarians, Forbidden Dimension were in on the secret as to what actually happened to Huevos Rancheros' bassist Graham Evans, namely that he was killed in a fiery plane crash down in the States. Phibes dug him up, cleaned him up a bit, christened him Bloody Hollie, and the rest, as they say, is Canadian music trivia.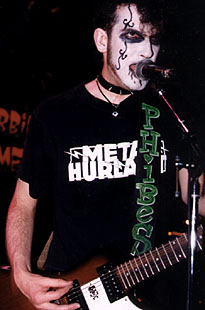 Phibes started with an announcement: "we're playing a headless show tonight. Hope it doesn't offend anyone." Seems they'd left the skull from their trademark signpost in their hotel room (it's hard to find a good crypt for rent, downtown), but it didn't wreck the show too badly. They began with the cool "Vulture Feed/Dreamdate," from 1993's Sin Gallery, and worked their way through other songs like "Big Black Hearse," "Tiptoe Through the Tombstones," "Spiderbite," "Concerto for Bullwhip and Bikini" (yes, an instrumental) and "Wild Doll." They played more instrumentals than one might have expected, and, sadly, they pretty much ignored their older material: no "13 Bloody Graves" or "Crawling Eye," much to the chagrin of the fans shouting requests. Overall, it was a good show by a cool band, but the sameness mentioned previously seems to takes the edge off of their shows, after a few years.
Now, finally, the Muscle Bitches. If there's a crazier band in Vancouver, they must need day passes, and if there's a more entertaining band in Vancouver... well, no, how could there be? And call it full-contact entertainment, please.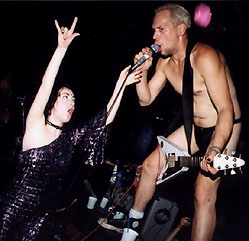 The Muscle Bitches were looking a little cramped on the relatively small Starfish stage -- there's not a lot of space for six people that jump around a lot. To celebrate the first show by the band's new female singer (none other than Mellow from Spanking Betty and the Bombshells), they splurged and bought matching purple sequined dresses for the two singers -- the body-huggingness of which was kind of lost on Dr. Naughtypants. The rest of the band showed up in an assortment of g-strings and gorilla suits (and carrying their mini guitars), and away they went.
Describing a Muscle Bitches show is kinda difficult. On this night, we were coated in flour (and discovered it makes for a slippery dance floor). We watched as the band's bassist was tackled from behind mid-song by someone who looked like Igor. We saw BMB's Jenny prance crazily about the stage, putting guitars between Dr. N's legs. We were treated to a wicked version of "Boogaloo," and "Is Your Metal Heavy?" prompted a frenzy on the dance floor. (Even more so than normal -- the crowd at a Muscle Bitches show is usually worth half the price of admission, even if they were a little quiet, tonight. Relatively.) And if that all doesn't sound like fun, well, actually, it is.
---
First published in Drop-D Magazine on August 23, 1996
Index | Search | E-mail | Info | Copyright

Considering copying some of the images from this story?
Please read this first. Thanks.