Anything but Belly Up
Echobelly
with For Squirrels and Superdrag
The Town Pump
Vancouver, B.C.
March 21, 1996

Review by Daniel Ewacha
Photography by Rodney Gitzel
---
Opening this odd mix of a show was a band out of Knoxville, Tennessee known as Superdrag. With a sound that can only be described as intoxicating, with influences ranging from the Cure, Smashing Pumpkins, and the Jesus and Mary Chain, Superdrag definitely created a name for itself among the few who decided to show up early. Combining great sounding tunes with a charismatic stage presence equals success as Superdrag becomes a name synonymous with quality, which, unfortunately, is quite rare in this music age.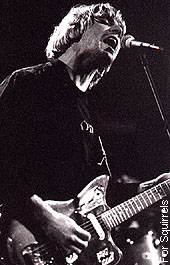 However, the same could not be said about For Squirrels, the middle band on the bill. It seems that the world will never forget Kurt Cobain, and the lads who make up For Squirrels are making sure that it doesn't even become a possibility. The hair, the eyeliner, the Jaguar guitars (right-handed, sadly). They even had special 'last-song' guitars to smash around. Need I say more?
Back in November when London-based quintet Echobelly made their first appearance in Vancouver, they were opening for Electrafixion. Forced to play the usual 45 minutes allotted for a supporting act, Echobelly used every possible second to win the crowd's affection. It seems that they succeeded as Echobelly returned to the Town Pump four months later headlining in front of a much larger crowd.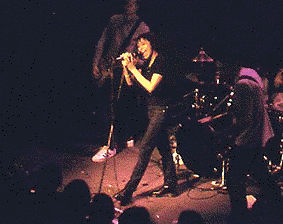 Vocalist Sonya Aurora Madan, in her pixie-esque fashion, immediately captured the attention of everyone in attendance, prancing around on stage and melodically bellowing out tunes from their latest release, ON. Mesmerized, the crowd, driven by an exploding rhythm section and full-out guitar extravaganza, clung to every lyric sung and every word spoken like followers at an Amway convention. To expect any more would be impossible as Echobelly laid everything on the line and converted onlookers and doubters alike into members of their exponentially growing fan base, much like they did last November. Only next time, there won't be room at the Town Pump for all to see as they once again prove why they are one of the best bands around.
---
First published in Drop-D Magazine on April 4, 1996
Index | Search | E-mail | Info | Copyright

Considering copying some of the images from this story?
Please read this first. Thanks.