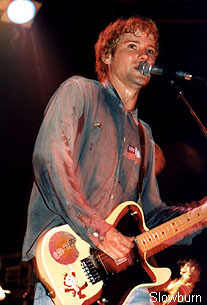 Slowburn Sparks a Rare Fire in Vancouver Club Land
Slowburn
with Belter and The Serotones
The Town Pump
Vancouver, B.C.
June 6, 1996

Review by P. Freako
Photography by Rodney Gitzel
---

Vancouverites Slowburn played a rare hometown show recently, much to the joy of the throngs in attendance, and a rare thing occurred: the crowd was actually into it and was vocal about it. How did that happen? It's a story of balance that started long before Slowburn took the stage...

The Serotones were first up this warm June evening. This young, local, five-piece pop-rock outfit played an OK set of numbers that were showcased by strong lead vocals and catchy backup vocals. The poppy content and guitar work of their songs could have used a bit of sharpening, and it thus seemed a moot point to have three guitars. They just didn't seem to display that extra crispy edge that a pop band needs to leave a lasting impression. With the exception of the song, "I Want To Be Rich,"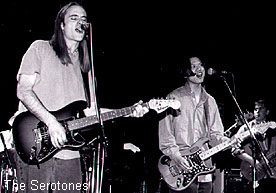 which harboured the line, "I just want to be rich, but I want to do shit" -- I don't know, I guess I like it because, though it's simple, it describes well Vancouver's pseudo/wannabe hippie culture, and most of West Vancouver, for that matter -- their songs just didn't seem to say anything to me. The Serotones did, however, leave me with the impression that they could be a good band. They just need time to grow and play a bunch of shows to develop that cohesiveness. Oh by the way, the lead singer had a painting of Col. Sanders sportin' a 'fro on his guitar. Though that's kind of funny, the mere thought of KFC makes me queasy and an empty feeling suddenly enveloped my lower intestine.
An empty inside needs to balanced by a heavy outside. That's the law of nature... really! You calling' me a liar? Go ask David Suzuki! As luck would have it, the forces of good were on my side.
Said forces appeared on stage as a three-unit block of intensity carrying the name of Belter. Fresh from their gig as part of the Turtle Compilation CD party the prior week, they took the stage with a confident aura. Belter carries a strong, imposing presence on stage. The singer/bass player is a muscular guy with a powerful voice that penetrated the brain of all those in attendance. The guitar player laid out hard and furious work, which combined with the powerful bass and driving beats to pour out long, intense heavy songs that carried a heart full of emotion. I was into it, but, as their set wore on, so did I, and a diversity seemed to be lacking to pull us out of our trance. Belter's style is almost industrial at times, heavy funk at times and, I guess, just heavy all the time. They are fantastic musicians and definitely left the crowd in awe, but they managed to do that after the first song, and just never broke away from there.
News Flash... A guy walked across the stage with a poster reading that Ozzy Osbourne has canceled his midnight autograph session. Turns out Ozzy had a massive asthma attack and had only managed a few songs before cutting short his concert early this night. Hmmm. I was wondering why there were so many freaks in the audience. They were at Ozzy and needed something to do with the rest of their night. It all makes sense now.
Balance man, I had to shed that worn heavy feeling. I need a ball of energy to create this. Don't doubt me on this, because again the forces of good were on my side.
This ball of energy appeared in the form of local favourites Slowburn. The large crowd that had now gathered at the Pump was ready for Slowburn to flaunt their wares and a guy asked me if I had seen anybody from the band. "Nope, not yet, why?" "I'm a cousin of one of the guys in the band and I haven't seen him in eight years." He never mentioned which guy, though... Hmmm... Maybe he was at Ozzy too.
Slowburn... uhh sorry... Handsome Boy recording artists Slowburn finally came out and greeted the hometown crowd the best way they knew how -- with a cranked performance. Now don't get me wrong, I enjoyed their show. I thought it was very good, but for the first half of the set they just seemed a wee bit distracted and inhibited, not quite able to free themselves, as it were, and I couldn't figure out why. That is, until about the middle part of the set when they played their 'radio hit' "Whatever" from their current self-titled CD (actually, it's also on their previous CD, Sparked, and is about four years old).
Anyway, after they played it, I almost got the feeling that that they were free to be themselves now, and that their obligation was over. The next song, "In A Row...the extended version" (I peeked at the set list) was fast and furious and whipped the crowd into a "Frenzy," which, by the way, is a song they sadly didn't play tonight. They were done with their "we have to play our hit obligation" and cranked it up for the rest of the set. The crowd responded vocally and people were dancing and flocking to the front of the stage in no time. Cliff Boyd and Charles Boname were in fine guitar form, while Harvey Windsor drove the set with his sweaty, heavy bass rhythms. Slowburn combined their up front musical style with personal, reflective vocals and lyrics to create a live show that captivated the audience from brain to toe, leaving us very thankful we were here to witness an inspired effort, instead of going to see Ozzy hack his lungs out for 20 minutes.
---
First published in Drop-D Magazine on June 13, 1996
Index | Search | E-mail | Info | Copyright

Considering copying some of the images from this story?
Please read this first. Thanks.