Bone Idol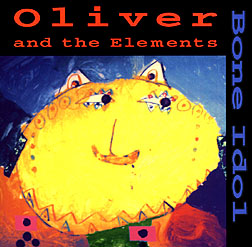 Oliver and the Elements
Spinner

Review by Greg Mittag
---

37-second excerpt from "Stand Back" (various formats)


This roots band from Vancouver has hosted the Yale Hotel's Monday Night Special for the past seven years. Their second CD, Bone Idol, contains 64 minutes of polished rhythm and blues.

A bouncy R & B tune gets things rolling. Like most of the songs on the CD, "Simple World" was written by lead vocalist Oliver Conway and Elements' bassist Mike Arsenault. The overall sound of this cut is similar to the Freeze Frame-era J. Geils Band, with Conway's vocal stylings bearing more than a passing resemblance to those of Peter Wolf.

The Elements' playing is consistently fine. It's no wonder they regularly back up visiting musicians such as Jeff Healy and Pinetop Perkins. Just listen to the Elements rocking along on "Stand Back," with its smooth syncopation. Some classic horn charts don't hurt either.

From the first note of "Another Mule," you'll want to get up and dance. All of the elements (excuse the pun) come together on this infectious groove tune. "Another mule kicking in your stall," by the way, is a pretty traditional blues metaphor.

"Lying with the Lions," another rocker, uses a circus metaphor to describe a woman who likes to live dangerously. Another circus-flavoured song, "House of Fun," features Conway's melodic harp blowing.

Back-to-nature yearnings surface in "Straits of Georgia." These are the best lyrics on the album, and they are set to a gently flowing rhythm. I do have a minor quibble, though: Conway sings, "My people came here back in 1807 / Fourteen generations living on this land." Even at 20 years per generation, 1807 to 1996 is still less than ten generations.

The songs on Bone Idol that don't work as well are the more commercially-oriented fare. "Rhythm and Blues is Dancing Music," slated as the first single and video, comes across as unfunky and too self-conscious, like many intended anthems. For contrast, give Arthur Conley's "Sweet Soul Music" a spin, and you'll hear the difference.

Similarly, a duet with up and coming songstress Megan Metcalfe desparately needs better lyrics. Metcalfe has an appealing voice, but the country ballard, "Instead of Breaking this Heart," just doesn't give her much to do.



---
First published in Drop-D Magazine on June 20, 1996
Index | Search | E-mail | Info | Copyright

Considering copying some of the images from this story?
Please read this first. Thanks.