Wither Blister Burn and Peel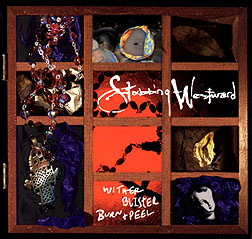 Stabbing Westward
Columbia

Review by Tricia Boer
---

44-second excerpt from "I Don't Believe" (various formats)


The newly released Stabbing Westward album, Wither Blister Burn and Peel is brilliant. The music is raw and angry. The album itself is quite dark. It's complex, it's sonic. It kicks! It tastes of the newer Nine Inch Nails sound, musically and lyrically. The video for "What Do I Have to Do?" immediately caught my eye on Much. Ethereal with a vampiric mood. Definitely my taste in music.

The lyrics on the CD tell a story, in a way, of how society and our generation deals with society, how we love and treat people, how callous we can be, how desperate we are for happiness. It can be identified with. The clubs are going to eat this up.

The band has changed somewhat since their last recording. Guitarist Stuart Zechman and drummer David Suycott have left the band, with Andy Kubiszewski (formerly of The The) taking over drum duties. Andy is a major songwriter on the new album and DAMN is he good at what he does!

As for future plans, I hear a 12" vinyl will be promoted at clubs, featuring two mixes of "Shame" done by Luc Van Acker (of the Revolting Cocks) and two mixes of "Fall Apart," one by Van Christie (of Die Warzau) and one by Stabbing Westward.

This album is excellent -- a must for your CD collection. I beg you to buy it! I mean, if the "alternative" radio and press are impressed...



---
First published in Drop-D Magazine on June 20, 1996
Index | Search | E-mail | Info | Copyright

Considering copying some of the images from this story?
Please read this first. Thanks.