Odelay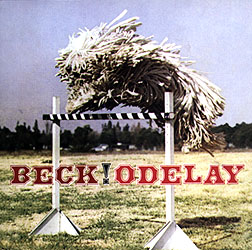 Beck
Geffen

Review by Darren Kerr
---

39-second excerpt from "Sissyneck" (various formats)


I'm really sorry to inform you that Beck Hansen is not another novelty delete K-Tel boy. Yeah, I'm guilty too. I thought he was just another flash of the spam when I traded in Mellow Gold after I got sick of its tweaky charms. Then I heard "Cold Ass Fashion" from the Jabberjaw compilation, and I knew there would come a day when I would again be floating blissfully down the streams of unconsciousness.

Twenty years from now he's not going to be known for that one weird song on whatever Goofy Greats equivalent that will be available in the next millenium. He will instead be mentioned in such esteemed company as Captain Beefheart, Roky Erikson, Arthur Lee and Gibby Haynes. I say this because this album bops and slinks, rambles and ambles like Arlo Guthrie in the throes of a railroad jerk.

"Sissyneck" is the the perfect marriage of truck stop and beat box; "Derelict" has its feet firmly sunk in some hypnotic swamp; and the album closer, "Ramshackle," gently sets you in your favourite easy chair and then gets you the footstool. These are just a few of the great songs found here.

Now, if you'll excuse me, I'm gonna twist a little something up and dream of tomorrow's beer and maybe, just maybe, there might be news of a new Moist Boyz record.

It's gonna be a good day.



---
First published in Drop-D Magazine on July 4, 1996
Index | Search | E-mail | Info | Copyright

Considering copying some of the images from this story?
Please read this first. Thanks.