I Know What I Like...
Medeski, Martin and Wood
with the Charlie Hunter Band and the Shuffle Demons
Vancouver International Jazz Festival
The Commodore Ballroom
Vancouver, B.C.
June 25, 1996

Review by Carol Villeneuve
Photography by Dan Zubkoff
---

Ok, I confess: I don't know a lot about jazz and often I don't understand it. But, as with abstract art, I know what I like. My favourite kind of jazz is the kind that makes me want to move my whole body as opposed to just snapping my fingers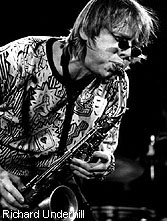 and nodding my head. And on this sold-out night, along with several hundred others, I worked the fabulous dance floor of the Commodore Ballroom to a triple-bill of groove-oriented jazz.

First up were the Shuffle Demons. This band has been around for awhile -- the last time I saw them was at the Ottawa Jazz Festival in 1991. Back then, they were a gimmicky band: a bunch of guys wearing matching loud outfits and goatees. The emphasis was on entertainment rather than music, and it didn't hold my attention, so I was surprised by their set on this night: no costumes, no conga lines, no goofy monologues, just music. The band has pared down to four players, including guitarist Eric St-Laurent, Richard Underhill on alto sax and vocals, bassist Mike Milligan and drummer Farras B. Smith. The new clean and lean line-up has a harder edge, sometimes bordering on rock -- but not for long: the Shuffle Demons don't play any kind of sound for more than a few bars. I guess that's the part of jazz music that I don't get. The players were technically sound, but the confused jumble of styles and rhythms left me feeling cold.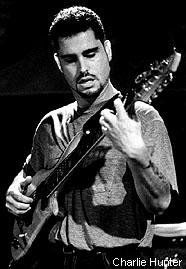 Another confession: I knew nothing about the Charlie Hunter Band except that Charlie plays guitar and bass at the same time on one 8-string guitar. Yeah, it's neat that he can do that, but there is a lot more to this band than Hunter's flying fingers. Dave Ellis and Caldier Spanier on tenor and alto sax respectively are just the sweetest horn players. Whether blasting out solos or blending sounds in harmonious duets, they really make this band. Of the three bands on the bill, this one was the least groove-oriented, but drummer Scott Amendola always kept the rhythm moving. Frankly, there were moments when the playing made my jaw drop so low that I would have tripped over it had I tried to dance.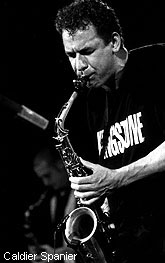 What I enjoyed most about this band was the obvious joy that they have in playing with each other and the respect they have for each other's talents. Sure, it's Charlie's band, but he was just as blown away as the rest of us by Dave Ellis' last solo. An astrophysicist I met on the dance floor told me that it is unusual for this band to play outside of the Elbow Room in San Francisco. One can only hope that the overwhelming response they got from the audience at The Commodore will encourage them to come back to Vancouver again soon.
The main event, Medeski, Martin and Wood, have been creating a buzz at the Vancouver Jazz Festival for three years. These guys are really smart -- they are fabulous musicians who manage to push the limits of innovation (thus making them oh so jazz-like), yet they remain accessible. Part of their success lies in the layering of sounds which makes it seem like there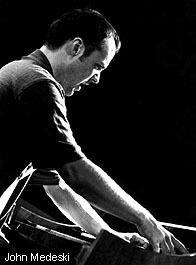 are a lot more than three people on stage -- at times they sounded like a big fat funk band. Individually the musicians in this band could hold their own in any format, with any band. Bass player Chris Wood switches between stand-up and electric bass, playing everything from heavy funk rhythms to traditional walking bass lines. John Medeski's organ and piano playing is an intense physical wonder. At times he is flamboyantly playing with arm movements that start high above his head; other times he is literally slapping the keys like a hand drum; and still other times he caresses the keys with delicate sparse movements. Billy Martin won my vote for best drummer of the night. Whether he is playing cool jazz rhythms on the high-hat, African rhythms on the skins or a shaker, he is always an inventive and creative percussionist. He seems to constantly be searching for ways to add a layer of sound and rhythm to the mix.
My goal for the evening was to dance, and finally, with Medeski, Martin and Wood, I did just that, for two and half hours. I highly recommend that readers who like funk, groove, and acid jazz check out the trio's CDs. Better yet, check out their next gig in Vancouver, Sunday August 4th at Richards on Richards.
---
First published in Drop-D Magazine on July 4, 1996
Index | Search | E-mail | Info | Copyright

Considering copying some of the images from this story?
Please read this first. Thanks.