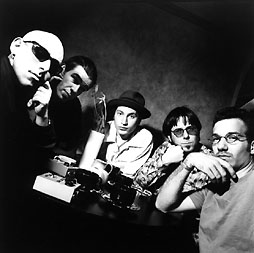 On the Trail of the Oranj Panther
Matt Brubeck of the Oranj Symphonette
Interview by Paul Watkin
Live photography by Rodney Gitzel
---

45-second excerpt from "A Shot in the Dark" (various formats)


You've heard of the Elvis tributes, the KISS tributes (and fortunately no Alanis tributes, yet), but what about the Henry Mancini tributes? You know, playing all your Pink Panther favourites? Maybe "Baby Elephant Walk" or the theme from Peter Gunn? Enter the Oranj Symphonette.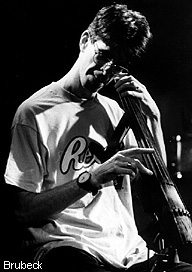 The members of the Oranj Symphonette met while working with Tom Waits on the score for Jim Jarmusch's classic film, Night on Earth. Based in San Francisco, they are perhaps the definition of multi-faceted: cellist/bassist Matt Brubeck, the-man-who-plays-everything Ralph Carney (Tom Waits, the B-52's), percussionist Scott Amendola (T.J. Kirk, Charlie Hunter Trio), guitarist Joe Gore (Tom Waits, P.J. Harvey, Les Claypool -- and he's also Guitar Player's senior editor) and keyboardist Rob Burger (Bill Frisell, Wayne Horvitz). Yikes!
Matt Brubeck is indeed the son of famed jazzman, Dave Brubeck, plays and composes for the Club Foot Orchestra, has composed for the Bay Area Jazz Composers' Orchestra, arranged music for the Kronos Quartet and played and recorded with Tom Waits. But it is jazz that runs through his blood and it was through teaching that his appreciation grew.
"I taught jazz history at San Jose State and I found that I learned a lot through teaching. I was teaching non-music majors and it was tough. How do you get a Vietnamese chemistry major to appreciate John Coltrane? My jazz collection grew inversely. I'd be listening to records from the 60's, then the 50's, 40's, 30's etc... "
"I listened to a lot of different stuff, I went through different phases. I'd listen to Chick Corea, Yes... difficult music. I outgrew that, but I always listened to the Beatles, Devo, Steely Dan, the Talking Heads... "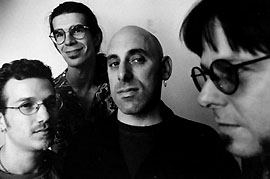 One common thread running through the aforementioned artists is their unique approach to music. It is in this same vein that Oranj Symphonette approached the work of film composer Henry Mancini.
"It was kind of hard to decide which songs to do. Really, it has been much like any band, we get together, congeal and experiment with it. We approach it differently, but with a lot of jazz standards. We pride ourselves on approaching it differently. Maybe we'll do ska one night and James Brown the next. You never know."
Their jazzed up style graced a sparsely-attended Starfish Room last November in what Matt calls one of their better shows. When this group of great improvisational musicians let the notes fly in a flourish of musical mayhem that night, I was lost in the magical moment -- as they also appeared to be on stage.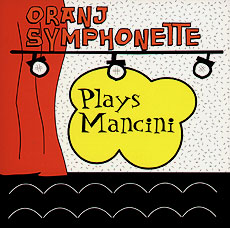 "Not really lost. Being in this band is kind of like being in an arcade auto racing game. You're already used to what's around you. You know there are a couple of trees coming up around this turn and then somebody throws you a curve, like a tunnel or something and you have to deal with it."
The Blue Lizard folks were out in full force at that show, and some might suggest that Oranj Symphonette is part of the lounge resurgence. Not me, of course.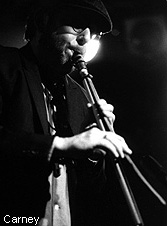 "Lounge music can be so many things to so many people. I don't think we're really a lounge band. I think what's happening is that young people are listening more to instrumental music and jazz falls into that category. I think maybe that people are tired of hearing lyrics. I think that's part of why instrumental music is so popular now with the youth. Who knows what other cultural forces are at play, though."
So here we are, kicking off 1997 and the Oranj Symphonette are coming back for another Vancouver performance, again at the Starfish Room, on February 20, supporting their debut Rykodisc release, Oranj Symphonette Plays Mancini, and paying homage to the great composer.
"I don't think he [Mancini] got the respect he deserved as a composer with the likes of Monk and Ellington. He didn't get the credit in terms of his melodic gift. Through our music, we're able to shine the light on his talent."
So don't miss them, this time!
---
First published in Drop-D Magazine on January 28, 1997
Index | Search | E-mail | Info | Copyright

Considering copying some of the images from this story?
Please read this first. Thanks.