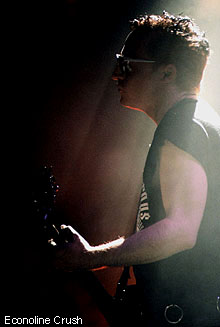 Daniel's Inferno
Econoline Crush
with The XMembers and Media Sex God
The Town Pump
Vancouver, B.C.
July 6, 1996

Review by Daniel Ewacha
Photography by Suzanne Goodwin
---

My expedition into the netherworld last Saturday night was truly an exciting, yet sobering, experience. Through the portal we've come to know as the Town Pump, I was immediately transported to a new dimension, Hell I think, though I find it hard to believe Hell could be so enjoyable.
Bathed in a sea of blood-red lights were the first of my three hosts, Media Sex God, who insisted on showing me the sights. They proceeded to knock me senseless with a barrage of screaming guitar riffs accompanied by the thunderous boom of drums and bass, while vocalist Jeremy completed the assault with punishing wails and ear-splitting vocals, not to mention a variety of quips used to lighten the mood a bit. A very warm welcome was provided by Media Sex God by way of their very tight and extremely dark-sounding set. My journey it seems was just beginning, but what a beginning!
My second set of hosts were known as the XMembers. X members of what, you may ask? X members of the Cadillac Tramps. Now, did I miss something? The Cadillac Tramps -- what is it with these guys? It seems like they're bigger than the Beatles were. I saw them play at Music West two years ago and, while I wasn't too impressed musically, their stage presence, in particular that of lead vocalist Gabby, was something to remember. Anyway, it seems that the only difference between the Cadillac Tramps and the X Members was the name change and a couple of members. Their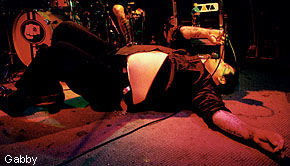 music, as it was before, was all over the place, with so many holes in it all the concrete in New York couldn't fill them. But nobody seemed to care. And why should they? One thing can be said for the XMembers and that is they know how to put on a great show, and with everyone transformed into blobs of thrashing, moshing zombies, well, isn't that what every band strives for in the end?
Now it was up to the grand hosts and engineers of this fine party we were attending to bring both the music and the show all together, they being Vancouver's own Econoline Crush. I must admit I wasn't expecting a whole lot as I've seen Econoline Crush four times in the past and each time I left yearning for more than what I was given. However, it was apparent after the first note was struck that this was going to be a truly inspirational performance. Satan had given Econoline Crush full run of the place and they took full advantage of the situation.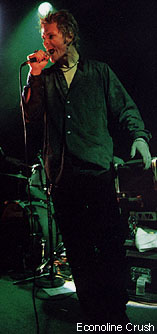 Accompanied by the usual smoke machine, strobes, and multi-coloured state o' the art light system, Econoline Crush did exactly what I thought they were incapable of doing -- bringing their CD Affliction to life! It made me imagine what this band would be like in a venue like GM Place, ultimately a stage they will no doubt reach sooner or later, and it gave me a warm fuzzy feeling inside. Driving the crowd into a frighteningly frenzied explosion, Econoline Crush slammed their industrialized hard rock music down our throats until we couldn't take it any more.
Yes, folks, my trip into the bizarre was truly an experience to savour. I would like to thank my good hosts for the most excellent party and I look forward to my next escapade with them!
---
First published in Drop-D Magazine on July 12, 1996
Index | Search | E-mail | Info | Copyright

Considering copying some of the images from this story?
Please read this first. Thanks.