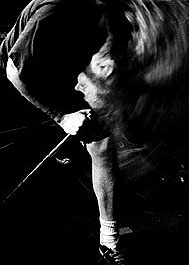 Sound as a Weapon
Napalm Death
with At the Gates and Grudge
The Starfish Room
Vancouver, B.C.
June 25, 1996

Review by Kevin Templeton
Photography by Rodney Gitzel
---

A fine summer evening provided a distinguished opportunity to experience a gig of truly mammoth proportions. That's right, a pure, driving, extreme metal show guaranteed to satisfy the starving appetite of your average basement-dwelling, hair-growing metal follower left behind by the 90's sea of alternativeness. It all seems a distant memory: the Starfish Room (then called Club Soda) promoting regular, and well-attended, "Metal Mondays," featuring the loudest touring acts around. But, as we all now know, most of the institutions from yesteryear fell to the wayside as the musical climate evolved from the 80's excess to the decidedly 90's "less is more" aesthetic.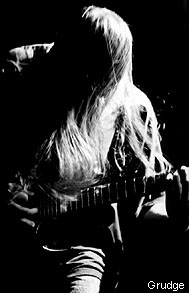 Unquestionably, a flashback was the order of the evening. After getting my ass thoroughly kicked playing pool on Granville prior to the gig, I had a distinct vision permeating my brain of another supreme ass-kicking over at the Starfish Room (hopefully not at the hands of a tattooed behemoth in the pit). We walked over, but regrettably, we arrived too late to have caught the first band of the evening, local act Grudge. The vibe around the room as we entered (and Grudge exited) seemed positive, and I recall hearing a few patrons, including At the Gate's singer, expressing complimentary reactions to their set.
It's not often that you get to see a band direct from Sweden, but that was on the menu this night with Swedish five-piece At the Gates (dumb name...at what gates? Hell's gates? Lion's gates? Link Gaetz?!). Singer Tomas Lindberg, looking like a dreadlocked version of that wiry Spin Doctors singer, proclaimed the band "had never been to Canada before" and were "happy to be here." At the Gates played a very primitive set of semi-technical speed/death metal noticeably void of emotion or any sense of dynamics, the same sort of missing elements that have crippled old-school heavy bands left from the 80's thrash era.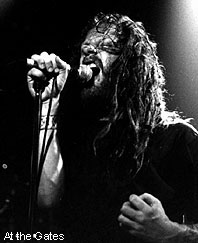 I was left disappointed with their set. In the past, Napalm Death have toured with stellar acts like Godflesh and Machine Head, but A.T.G. seemed to be sub-par metal, probably destined for purist European heavy metal audiences only. Musically, they seemed tight and focused (albeit repetitive), not uncommon for bands of their particular genre. Still, their songs seemed to fade into one another too easily, and, although many (like myself) were interested solely for the heaviness quotient, that's all it seemed to amount to... status quo heavy music.
Certainly ones that buck the trends -- and status quo -- of "mass appeal madness" (as they call it) are Birmingham, England's musical terrorists and grindcore kings, Napalm Death. Starting out in the early 80's as a cult favourite (and politically left of centre) punk/noise group, the band has come full circle in its "Anti-music" musical stance to create their most progressive recording to date, Diatribes.
This being the fourth time having seen the Napalm ones over the years, I wasn't really expecting much new ground to be covered in terms of impact... what was I thinking? The band, led by charismatic singer/growler Barney Greenway, absolutely tore to the stage as though it was their first show in months -- talk about renewal! Barney's vegan t-shirt stating, "murder is NOT on the menu" couldn't have been further from the truth. This event was musical murder of the highest degree, yet crafted with purpose and intelligence and with none of the raging testosterone displayed by many acts from the underground scene.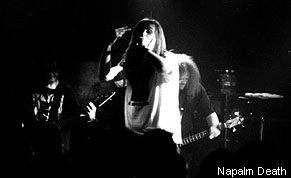 Now, accounting for each and every song or detail within a Napalm Death show would be pointless, as it is the entire sum of the band's performance that provides its standing impact. Having said that, my personal highlight was their classic, "Suffer The Children," from the Harmony Corruption disc of 1990. Older blasts were also played such as "Scum" and "Lucid Fairytale," the latter being dedicated to their English soccer team who were playing Germany the next day in a tournament overseas (the U.K. lost in an upset shootout, and I think they may still be rioting in England...ouch!). Bassist/mainstay Shane Embury even contributed vocally on one newer track, adding a new dimension to Napalm Death's sound that I'd never expected them to explore. "Nazi Punks Fuck Off," the classic Dead Kennedies track, was saved to the end, and as per usual, went over like a storm.
All in all, a great night was had. It's a rare pleasure to see a band play with as much conviction and intensity as Napalm Death did. Unapologetically. "Extremity Retained."
---
First published in Drop-D Magazine on July 12, 1996
Index | Search | E-mail | Info | Copyright

Considering copying some of the images from this story?
Please read this first. Thanks.