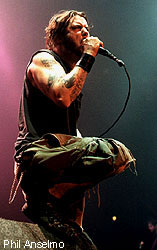 Mosh of the Titans
Pantera
with White Zombie and Minority
Pacific Coliseum
Vancouver, B.C.
July 26, 1996

Review by Kevin Templeton
Photography by Rodney Gitzel
---

"War of the Gargantuans," eh? Well, that's what this show was billed as. Alright, let's get specific: gargantuan (gär-gan'-choo-un) adj. gigantic, n. giant king. Taking into account my dictionary's definition, one may have cringed at the prospect of witnessing such a titantic clash of modern-day metal beasts Pantera and White Zombie on a scorching Friday night. And at almost $40 a ticket, this was definitely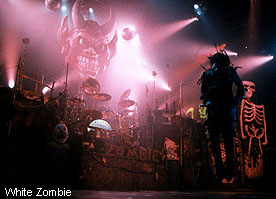 one expensive fight to behold, especially considering that White Zombie played the Coliseum just over four months ago. Why wouldn't Pantera want to promote their latest disc with a simple headlining tour of their own, without the theatrical bombast of New York's finest mutants to contend with?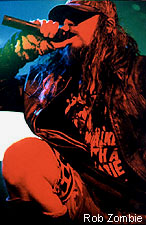 Well, my friends, package tours seem to be all the rage (heh, heh) these days, especially during the summer months, and this concert was no exception. Besides, the trusty old Coliseum always seems fair game for a decent arena rock riff-fest, and this event proved no exception to that precedent.
Anyway, Eyehategod were slated to open this bill, but withdrew at the last minute, not the first time they've cancelled here in recent years. It was cool to hear that promoters had given the nod to local guys Minority in Eyehategod's place, and they opened the proceedings with a bout of brash, raw, hip-hop-inspired metal, a sound that has earned them numerous accolades from local hard

music fans. Unfortunately I was only able to catch two songs, as the band was put on stage ahead of schedule (they were already playing by the time we arrived at 7:30, the publicized start time). But considering the magnitude of the gig, I'd say the band more than held their own, and I would suggest that you check them out.
For one reason or another, I have never been a big White Zombie fan. Having said that, I can't really deny them their place atop the 90's heavy metal heap, as they truly are far more progressive and different than many of their peers, despite the incessant number of remixes the band does (or has done for them). They certainly have their share of fans, many of whom stormed past security to the Coliseum floor and began to chant "Zombie! Zombie!" while the pre-show soundtrack played and roadies threw Zombie guitar picks into the crowd.
Opening up with the explosive (literally) "Electric Head Pt. 1," the band took to the stage amidst fireworks and a set-up that seemed to mix a graveyard, a carnival and a truck stop -- with a huge devil face leering from the screen behind the stage. Clearly White Zombie have borrowed heavily from the KISS book of theatrical schtick, and more power to 'em, I say! A new track called "The One" (from the Escape from L.A. soundtrack) was showcased, but the show began to lose momentum when head zombie Rob slipped out of character to rant about how little sleep he'd had due to some troublesome border problems. Now it's my turn to rant: it's such a tired issue hearing bands (especially bigger ones) whine about the border. Yeah, it's a drag, but... that's your job... now just play your music! An entertaining set, nonetheless.
Quick to cut to the chase always seems to be the case for high and mighty shred-metal Texans Pantera. After a recorded version of "Suicide Note Pt. 1" was played to intro tonight's main event, the ballistic quartet ripped into the title cut from their latest CD, The Great Southern Trendkill. Definitely not the group's finest album, but that's Pantera: they're as literal and as blatant as a prize fighter going in for the kill.
Frontman Phil Anselmo, whose stage presence seemed strangely altered by the arrival of long hair on his usually-shaved skull, is never one to mince words, and he was certainly pulling no punches with his open-forum session against "sell-outs" Metallica (someone had to say it!). "Turn those house lights on," ordered Phil. "Those fuckers sold each and every one of us out." After raising a final middle finger to Ulrich and Co., Phil and Co. ripped into the triumphant "Becoming," unifying and inciting the moshing crowd simultaneously.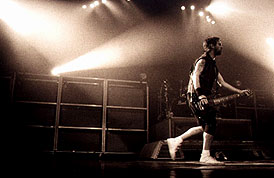 All in all, I really thought it was great to see the contrast between White Zombie's flashy stage performance and Pantera's stripped-down, wall-of-amps style. All things considered, I would have to give Pantera the slight edge on this evening, due to the sheer strength of their material and their overall impact on the dancing hordes.
High and mighty, we await the rematch.
---
First published in Drop-D Magazine on August 8, 1996
Index | Search | E-mail | Info | Copyright

Considering copying some of the images from this story?
Please read this first. Thanks.