Recurring Dream - The very best of Crowded House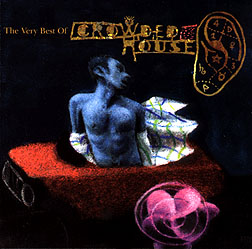 Crowded House
Capitol

Review by Greg Gitzel
---

43-second excerpt from "Instinct" (334 Kb .au file)


Wow! Did I just get a deal! The new Crowded House CD, with a bonus live disc -- over 140 minutes worth of music at an outrageous price of nineteen dollars.

On Recurring Dream, the listener is treated to the many songs that helped put Crowded House on top of the pop world. The 19 songs cover a lot of ground, from "Don't Dream It's Over" and "I Feel possessed," to "Distant Sun" and "Better be Home Soon." Three new songs pop out from these classics: "Not the Girl You Think You Are," "Instinct" and "Everything is good for you;" three great pop songs in that Crowded House vein.

With the release of this greatest hits package, Crowded House have announced that they are no more. It's really too bad that a band which writes such brilliantly-crafted pop songs would have to come to an end. If this CD doesn't cure the loss , maybe the limited edition bonus CD will -- if you're lucky enough to find it. There are songs that haven't been released before, plus songs that aren't on the greatest hits CD, and some that are on it , but which are recorded live, and they haven't been remixed or touched up.

This set of discs is for the Crowded House fan. 140 minutes of music if you get lucky and find the bonus CD; 70 minutes, otherwise. This is great for the collection. Crowded House will be missed.



---
First published in Drop-D Magazine on August 17, 1996
Index | Search | E-mail | Info | Copyright

Considering copying some of the images from this story?
Please read this first. Thanks.