Journey's All Over the Map
The Roswells, Veal, Black Pea, Oh Susanna and 10 Ft. Henry
The Gate
Vancouver, B.C.
Thursday, August 8, 1996

Review by P. Freako
Photography by Rodney Gitzel
---

This second in a monthly series of "Independence Days" showcased a gaggle of indie bands and was a good, well attended show. Hey, it's not so bad being independent.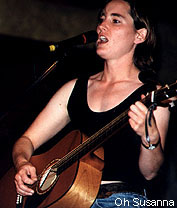 10 Ft. Henry kicked off the proceedings with a rhythmic set of sexuality and openness that wound its tales through a percussive foundation marked by the D'jembe. The music was bound together by a strong, sensual voice creating thoughts of perhaps Natalie Merchant and Mae Moore. This pop sextet built its rhythms from a methodical, sultry start to a more flurried pace as the set wore on. They were pretty cool, overall, but left me feeling like they could have brought just a little more spark to their performance. Still, their brand of tribal pop was a good start to the night.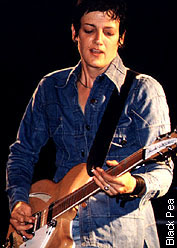 One woman, one guitar. Oh Susanna created a number of pictures in my head... Sitting on a dusty chair, the creak of the wood seemingly embracing the breeze as I watch the dust blow by, I hear a voice carry through that gentle breeze, unravelling messages from the distraught; tales of depravity and sadness. This sadness flows deep through my bones as the voice haunts me with a tale of a serial killer turned hero in society's eyes. As I sit paralyzed, asking myself how that could happen, fear sweeps over me with the realization that these stories bring with them a realness. That's what her set was like, powerful and meaningful, especially to the gentlemen who approached the stage and asked her to make a wish upon his ring. She obliged and finished her set leaving us just a little more reflective.
Black Pea was a late addition to this show. The middle child amongst five bands, they were granted a short set, but made good on their opportunity. This band is the latest incarnation of the band Bellygod and it's a good one. What they showed us was a solid ability to perform 70's influenced methodical rock driven by bass and drums. The guitar was the icing instead of the meat, leaving it free to explore and achieve different emotions for each song. I thought this was what made Black Pea a good band. It was that feeling for their songs that enabled them to reach us. Short but sweet.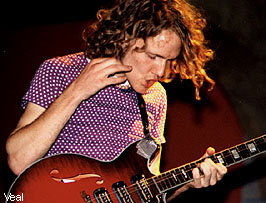 Veal turned out to be the main course tonight. Pounding out a manic guitar noise intro to start the set, they set the tone for what was to come. Stuffed with emotion, Veal passed on to the crowd their twisted tales of reality and perception. They had a fourth guy join them for the last half of the set and just maybe they are gearing up to be a quartet in the future... or not. This extra body allowed them the opportunity to unleash two guitars, creating a heavier progression of noise-driven chords. Their set was cut way short, because we were running behind schedule. Too bad, because I thought they were an interesting band, frantically relating bizarre stories of life and leaving us with some memorable lyrics: "Two heads in a basket are better than one dried fish in the sun." Words to live by... or not.
Okay, back on schedule. The Roswells. People are talking about these guys, so I was looking forward to seeing them. But that was then. As I peered at the stage I couldn't decide if they were for real or if they were playing a joke on us, as they all came out in purple corduroy jackets, with green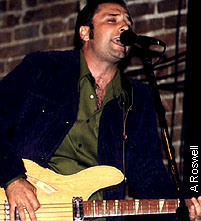 wide collar shirts and white pants. Now that can be cool, but not tonight, and, as they played, my hopes and aspirations were quashed. Can you say "Oasis"? Oasis, Sloan and Beatles, meet your ultra-fluffy offspring, the Roswells. Oh man! Sure, they could play, and had a couple of inspired guitar parts, but the vocals weren't quite up to the task at times, and I just didn't want to get it, you know?
Independence Day: Part Two was a successful showcase of indie bands, each different from the other and getting a chance to play in front of a pretty good crowd which included a number of local musicians. I like bands supporting bands. The music tonight varied greatly and took us on different journeys of reality. Some of these journeys, though, were just more interesting than others.
See ya next month.
---
First published in Drop-D Magazine on August 17, 1996
Index | Search | E-mail | Info | Copyright

Considering copying some of the images from this story?
Please read this first. Thanks.