Steely-Eyed Art Criminals
Steely Dan
Nat Bailey Stadium
Vancouver, B.C.
Friday, August 16, 1996

Review by Michele Martin
Photography by Paul Clarke
---

Off to the stadium once again, but, alas, no ballplayers in sight (although there was a beer tent off first base). It's an evening with, ta-dah, Steely Dan! Steely Dan? Sure, you remember them from the 70's, the guys who wrote those great songs. What's that you say? Oh, you weren't even born yet? Well, that's your loss. In any event, you'd still probably recognize the tunes: does "Rikki, Don't Lose That Number" ring any bells?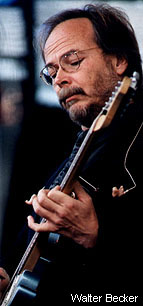 Steely Dan is vocalist/pianist Donald Fagen (the cool looking dark dude in the shades) and guitarist Walter Becker (the not quite as cool looking, almost cherubic blond dude), song-writing partners for some thirty years. Accompanied by a group of competent (and youthful) musicians, the Steely Dan Art Crimes Orchestra, Fagen and Becker put on their customary laid-back but still fan-pleasing performance in the city Becker described as "one of the really splended cities in America" at the tail end of their lengthy North American tour.
This was definitely an older crowd filling the bleachers and anxiously scanning the stage for a glimpse of Fagen or Becker. At 7:11 p.m. (precisely), Steely Dan took the stage to much applause and even a standing ovation as the opening chords of "Do It Again" rang out across the land.... Sorry, getting a little carried away here. You kinda had to be there, with the cloudy grey skies parting, and the sun shining through, and the sound system much improved since the Moody Blues show at Nat Bailey. Anyway, where was I...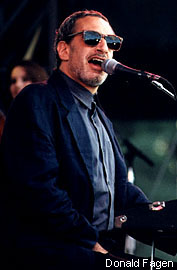 Steely Dan's songs are still characterized by Fagen's richly distinctive voice, a little wobblier perhaps, but still powerful, and by Becker's incredible guitar playing. The Orchestra managed to keep pace with the old-timers, lending a lush, symphonic backdrop to the show as a whole. Standouts from the Orchestra included Ricky Lawson's drum solo, Wayne Krantz' guitar solo, and Cornelius Bumpus on tenor sex.
The set list, not surprisingly, was a blend of the old and the new, with such perennials as "Josie," "Hey Nineteen," "Peg," and "FM" rounding out the old part. A pretty cool and romping little number, "Jack of Speed," written by Becker last year, showcased the continuing talents of the songwriting duo.
Steely Dan is renown for its musicianship, and tonight was no exception. The songs were executed tightly and professionally by the Orchestra with that distinctive Steely Dan-ish layering of sound. One exception, however, was the first song after the intermission, Becker's "My Waterloo" from his 1994 release, 11 Tracks of Whack, which was, as the woman behind me described it, "a bit of a mess."
Something Steely Dan is not known for is its stage presence (some would say because they don't got none), with Becker and Fagen preferring to remain loyal to the Bill Wyman school of performance art. Still, it wouldn't have hurt for them to have smiled once in a while. Becker, at least, understood the basic concept of putting on a show for the audience, with a running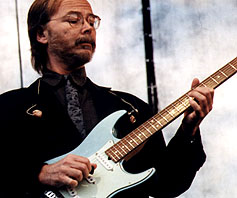 gag about the non-appearance of Marilu Henner, whom the band had been dying to meet. Becker very cooly stated he was disappointed, but hey, those things happen, then unexpectedly dedicated a song to her, "the lying, treacherous bitch!" Guess you had to be there. At one point during the encore, Becker asked the audience a question: "Tell me this: Why is it every time we come to Vancouver we have a great fuckin' time?" Boy, if this was their idea of a great time, I'd hate to see them on a downer.
In any event, Steely Dan fans know that you don't go to the show expecting to see a spectacle. What you do expect to see, however, is your favourite songs done pleasingly and professionally, with perhaps a hint of what's coming up next in the way of new work thrown in for good measure, and tonight, Steely Dan fans got all that and more. They also got to watch the show in a venue where all sight lines were excellent, the sound system was a pleasure, and where you didn't even need ear plugs. All in all, a great night at Nat Bailey. Now, if we could just get these guys to lighten up a little...
---
First published in Drop-D Magazine on August 23, 1996
Index | Search | E-mail | Info | Copyright

Considering copying some of the images from this story?
Please read this first. Thanks.