"Yeah, We're Old, but We've Got Your Money!!"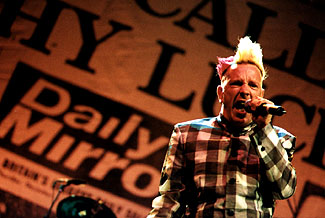 The Sex Pistols
with Goldfinger
PNE Star Spectacular
Pacific Coliseum
Vancouver, B.C.
Saturday, August 31, 1996

Review by Jamie Quong
Photography by Rodney Gitzel
---

You know you're a sell-out if you're a punk band selling tour mugs. Mugs! And for $15, to boot. There are some bands who sell tour underwear -- at least that's got a bit of a kink to it -- but tour mugs? Johnny Rotten is more senile than I thought.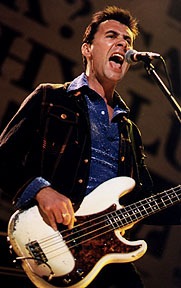 (OK, I promised myself that I would keep this review strictly music related, but please forgive me if I sneak in a few digs.)
One of the first things my friend -- a very big Sex Pistols fan -- said as we left the show was, "Well, that was a nice way to spend $20." You can probably already tell that this wasn't the concert of the year.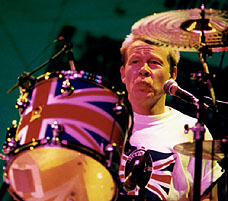 The first let down of the evening was that Gravity Kills had pulled out of the show "due to illness." I was faintly disappointed, as I do like the few songs I've heard by them, but, still, I have to wonder why a generic industrial band is touring with the Sex Pistols. Oh well, whatever floats your boat.
Los Angeles ska-punkers Goldfinger were the only bright spot in the evening for me, and even they weren't up to par. This was their third time through Vancouver in two months and, after seeing all three shows, I'd have to rate this show #3. Not to say that their set was bad. Goldfinger is like pizza, even if they're bad they're good. They put on a wicked show as usual, but it was easy to see that they were fatigued.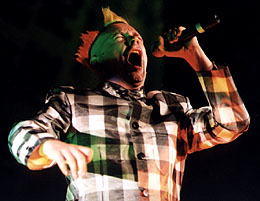 Still, they were amusing as ever. Drummer Darrin Pfeiffer pulled his classic "Look, I'm a girl!" trick (which they oddly refer to as "doing a Mariah Carey"), while vocalist/guitarist John Feldmann cheerfully attempted conversation with one of the security guards during the break in "City with Two Faces": "So, when was the last time you jacked off?" Toward the end of the set John jumped off the stage midsong, wandered up to the fence (which I might add, was unnecessarily fifteen feet from the stage), handed me his bottle of Evian and dove onto the crowd.
Goldfinger fans were blessed with several new songs this time around, as well as lots of tunes from the band's self-titled debut. As a treat, Goldfinger closed their set with a part punk, part ska, part Ronnie James Dio version of Duran Duran's "Rio." They saved the evening.
As for the Pistols... well, I have to admit that I have seen worse concerts in my lifetime, but never one so colourless -- except for the hair. I was at least hoping for some controversy, perhaps something Liam Gallagher-esque, so to speak, but there wasn't really anything interesting said. Or, for that matter, played. John Lydon (aka Johnny Rotten) strutted onto the stage, looking and acting much like a rooster, and stared at the crowd. A collage of huge newspaper clippings loomed behind him, with headlines like "Russian Roulette for the Pistols" and "Punk? Call it Filthy Lucre."
Rotten continued to stare accusingly down at the crowd for a while before he crowed, "I think you know who we are!" (duh!) and broke into the first song. He didn't speak again for the next few songs and then it was only to taunt a disrespectful spectator who was hurling obscenities at him. "Aw, you know you love me," he sneered at the irate fan. "And a big girly kiss right back at ya." With that he dove into "God Save the Queen," one of the only tunes I could pick out from what sounded like one hour-long song.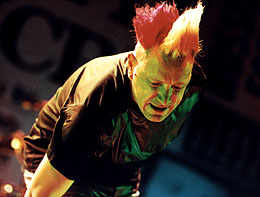 The Pistols may have been listenable at one point in time (ironically, at a time when they were so strung out that they didn't even know what a riff was), but now they've lost their edge. Part of their charm was that their music was so bad it was good, but now it's stylized and perfected and they sound just like any other corporate punk, well, maybe I should say, corporate grunge band.
Face it, guys. Your days of being doped out punkers are over. Your time has passed and it's time for you to go back to your day jobs and let today's bands shine. By the way (to quote an Oliver Stone film and not intend a pun), don't forget your smack on your way out.
---
First published in Drop-D Magazine on September 6, 1996
Index | Search | E-mail | Info | Copyright

Considering copying some of the images from this story?
Please read this first. Thanks.