Freako & Suzi's Artistic Adventure
Bumbershoot '96
Seattle Arts Centre
Seattle, Washington
Friday, August 30, 1996

Words by P. Freako
Photos by Suzanne Goodwin
---

Okay, after crossing the border, the first order of business always is "Breakfast at Denny's" (a Branford Marsalis song). Ya, I know, there is a Denny's in Vancouver, but the Canadian version just isn't the same. Grand Slam breakfast and then the highway. Yep, nothin' finer. Having sufficiently greased our intestines, we chugged into Seattle, ready for the day's festivities.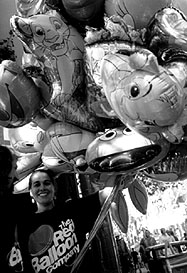 The Seattle Arts Centre is such a cool place. A nice chunk of urban real estate set aside for cultural and artistic exposure. Awesome. First, we need a media weasel pass, so sing along... we're off to see the organiser, the wonderful organiser of Bumbershoot. You guessed it, the first thing we saw was the kids' pavilion and a fun rendition of The Wizard of Oz. It put a smile on our faces. Upon getting our passes we were off to the races.
We checked out a gallery exhibiting photos of Kobe, Japan by Masao Kobayashi taken one year after the devastating earthquake. Photographically, nothing too exciting, but it was a reminder in this world of media gluttony one day, followed by media depravation the next day, that the destruction of Kobe did not go away and that there is still a lot of work to be done to rebuild the city. Aren't we supposed to have a quake soon? Get the point? The sun's shining, outside we go.
Basking in the sun, we stood mesmerized by the rhythmic drumming emanating from the non-stop drumming circle that was taking place. Anybody could join in, extra percussion instruments were available for those in the spirit. Off to the side, the Uzbekistan Tightrope Walkers entertained the throngs below them, but the rhythms drove us on towards the book fair. Why? I don't know, for mystical reasons I suppose.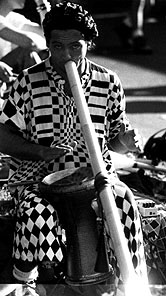 There was some cool reading to be found at the book fair, which eclectically ran the gamut from really cool comic books, holistic health books, communist magazines, co-op radio literature and everything in-between. A cornucopia of alternative lifestyle literary delicacies. The sun once again beckons, so outside we go.
There were artisans and artists strewn about flaunting their wares. Again, a wide variety of photography, crafts, balloons and cool beadwork could be found. Gazing in awe of the artistic talents being displayed, we needed to sit and reflect. Off to the fountain of youth we go.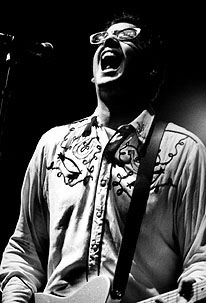 A huge fountain centres the Bumbershoot grounds and its gushing waters attracted hordes of youth frolicking under the bright blue sky. Soaking themselves and double daring their friends to do the same, their exuberance was a blissful display of youth and innocence. What a shame so many of us lose that spirit. Not us music types, though. Off to find some music we go.
Wandering aimlessly about the site, we managed to catch a solo street performer, blowing away at his didgeridoo and his drum. His dreamscapes were enchantingly captivating and the circle of people grew as his sounds emanated throughout the grounds. Growing weary, we ventured out and grabbed us some Thai noodles. Mmm Mmm! Sitting in the shade on the cool grass, we checked out the evening schedule and plotted our course. It's cooling off, indoors we go.
Indoors to see the Mono Men. Surf-cowboy-punk veterans, they blew through a set of primarily new songs off of their upcoming CD. Their pounding style and harsh vocals had the mosh pit up and running... in circles. They're not overly diverse, but that's why they're called the Mono Men. They did prove that they still rock with a vivacity that they apparently never lost from their youth. Too cool. Need a warmer climate.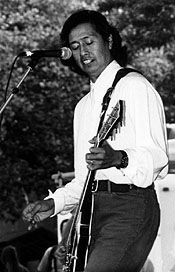 How about Austin, Texas? The home of the critically acclaimed songwriter guitarist, Alejandro Escovedo. His uniquely crafted soft pop rock songs were highlighted by the classical use of the cello and the violin. Finding his songs uniquely soothing, I took a deep breath and glanced to the sky only to see Project Bandaloop, a performance troupe scaling the Space Needle. Not something you see everyday, and on that theme...
Southern Culture on the Skids gave us a different taste of the south... or, North Carolina to be more exact. Their hillbilly rock had the gathering dancing under the moon and, for the song "Eight Piece Box," they had a group of women dancing on stage and flinging fried chicken into the crowd. With a guest appearance by Santo, the greatest wrestler Cuba ever produced, I was left feeling kind of tough. So?
So I thought pro wrestling was a bad act. Well, the Sex Pistols beat them hands down for that title. We both knew it was a bad idea, but we had to check them out. They couldn't play, Johnny couldn't sing and they had no energy. They sucked all the way around. Mr. Lydon should have listened to Roland Gift's "Johnny, we're worried, won't you go on home." Thankfully, though, we wouldn't end the night on a bad note.
Grandpa Gums, an old, scruffy looking guy just playin' his beat up guitar and singing of arthritis and life in general, offered his great sense of humour and entertainment to those ready to exit the gates, and as we did, our hearts were warm...
...Warm with the depth and diversity of the arts and activities that Bumbershoot provided for the young, the old, the weird... for everybody. The opening day at Bumbershoot was truly memorable... and tomorrow?
---

Editor's Note: Due to a decline in health, P. Freako was not able to remain for the duration of Bumbershoot. He was rushed back to Vancouver where he was pronounced dead, several days later. His spirit continues, however, having taken over another writer, Mr. Paul Watkin.




P. Freako
June 13, 1968 - September 10, 1996
N.R.I.P. (Never Rest in Peace)



---
First published in Drop-D Magazine on September 13, 1996
Index | Search | E-mail | Info | Copyright

Considering copying some of the images from this story?
Please read this first. Thanks.