It's Martini Time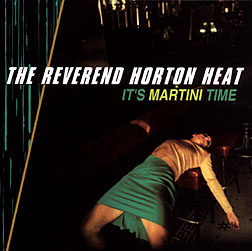 The Reverend Horton Heat
Interscope/MCA

Review by Paul Watkin
---

33-second excerpt from "Big Red Rocket of Love" (various formats)


40-second excerpt from "TimeToPray" (various formats)


This record is huge. The good Reverend has decided to forego the authenticity of the rockabilly swing era and instead make a big sounding record. Usually I hate that, but man, this latest effort from the Reverend Horton Heat is big and I'm likin' it in a bigger way. Producer Thom Panunzio deserves severe thanx for his work on this CD.

It's Martini Time offers a bit of everything. "Generation Why" and "Time to Pray" are rockier, grungier numbers while "It's Martini Time" and a cover of "Rock the Joint" have more of a lighter rockabilly swing feel to them. Combining these two styles produces the track "Now, Right Now," which if you ask most women, might sum up guys' feelings towards sex. So guys, listen to the record and learn from the good Reverend on the track "Slow."

Though this new record differs from past releases with its bigger sound, the same ol' characteristics are still present. The musicianship on this record is again stellar, with Jimbo Wallace on upright bass and Scott Churilla on drums laying down a pounding foundation for Jim Heath to let his guitar speak volumes, most notably on the instrumental tune, "Slingshot," where he picks away in fine fashion. The band also has characteristically fiery songs, and they show off that trait off immediately on the first track, "Big Red Rocket of Love," setting the tone for the rest to come.

Anybody seen the olives?



---
First published in Drop-D Magazine on September 13, 1996
Index | Search | E-mail | Info | Copyright

Considering copying some of the images from this story?
Please read this first. Thanks.