The Return of the Thunder Gods!!
KISS
with Stabbing Westward
GM Place
Vancouver, B.C.
Monday, September 2, 1996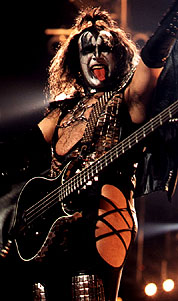 Review by Daniel Ewacha
Photography by Rodney Gitzel
---

No, this was not an opportunity to relive my youth and, no, this was not like being transported by to 1978. This KISS reunion show was not a return to the past, but was instead a glimpse into what KISS would be like today if the original members had stayed together and kept the make-up on. As impressive as the show was, I still viewed it as a poor substitute for what once was the greatest band in the world.

My opinion was strengthened when KISS exploded onto the stage with "Deuce." Paul and Gene, as usual, looked ready to party, and Ace preferred to let his fingers do the talking. But Peter reminded me of why he was fired from the band in the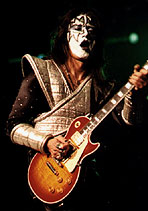 first place. His pathetic imitation of Charlie Watts made me regret buying two t-shirts ($62) and a program booklet ($25!), because I knew he would be getting a percentage of the take. In short, he looked like he couldn't care less about the show -- until he performed his sickening version of "Beth," which we will get to later.
For most of the 17,000-or-so people who filled the Garage to its capacity, this was the best show they had ever seen. To be fair, that is what most people came to see, a show. But for someone like myself who has seen them three times in makeup back in the old days, this show was pretty tame compared to those from the band's heyday.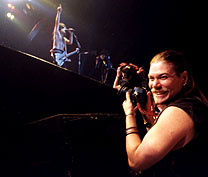 Ace, Gene and Paul certainly weren't running around as much as they used to, and Peter was being much nicer to his drum kit than he was when he was still in the band. As well, songs like "Firehouse," "I Stole Your Love," "Strutter" and "Love Gun," which in the past were performed brilliantly with flames and flashpots at precise moments of the songs, were now accompanied only by flashing multi-coloured lights and smoke. Paul's fireman's hat even failed to make an appearance on the top of his head during "Firehouse"! It's a minor detail, but it was quickly noticed by the faithful.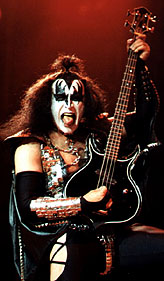 Gene's fire-breathing trick, however, was not missing from the action and, as usual, he tried to hit the top of the building with the massive fireball, bringing the crowd to its feet in amazement. KISS continued to reach into their bag of tricks throughout the show -- mostly during solos by Ace and Gene -- and laid down some of the most exciting theatrical entertainment ever seen by most in attendance.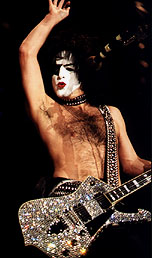 After astonishing the crowd with his picking abilities, Ace went into overdrive as his guitar caught on fire. He continued to play and, eventually, the guitar -- attached to a hanging wire -- flew out of his hands into the rafters above. Grabbing another guitar, Ace continued to display his talents, before launching rockets into the speakers above him from the neck of his guitar.
Gene's solo meant it was time for his blood-spitting escapade to begin. Chants of "Gene! Gene! Gene!" filled the Garage as blood poured from his grimacing mouth and off his very long tongue. [ed. Sadly, we photographers were not allowed to shoot this display.] He thumped through a haunting and monotonic bass guitar barrage and then literally flew through the air, the demon that he is, to a waiting platform high above the stage. From there, he and the returning band marched into "God of Thunder," marking the best and most memorable part of the show.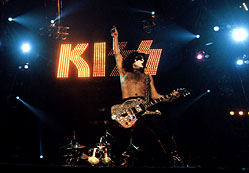 The band covered a lot of ground in the nearly two hours they were on stage. Songs such as "100,000 Years," "Do You Love Me," "Shock Me" and "New York Groove" (which had 'Surrey' substituted for 'New York' during the chorus, in reference to Surrey-ite Ronn Roxburgh, whose Firehouse Magazine is the longest-running KISS fan magazine in the world) were surprise and welcome additions to the set list, as these songs haven't been played since the 70's. However, missing were such staples as "Nothin' to Lose," "C'mon and Love Me," "Hotter than Hell" and, most notably, "Parasite."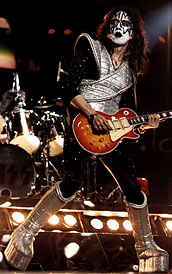 If "God of Thunder" was the best part of the show, then easily the worst was Peter Criss singing "Beth" during the encore. It was boring, mundane and ridiculous watching him perched primly on a stool, crooning away to a recorded symphonic accompaniment. Even worse was watching him handing out roses to those women in the front who exposed themselves the most. [ed. I'll vouch for that 'exposed' part.] It's not that I have a personal vendetta against the Catman; I just found it insulting, as a KISS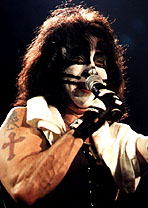 fan, to hear him state at the tour press conference that the "real" KISS was back. The real KISS, in my opinion, had the late Eric Carr on drums and Bruce Kulick on guitar; at least, it was during that period that KISS put out their greatest music.
Anyway, the rest of the band returned after Peter mercifully ceased singing, and they proceeded to tear into the show closer, which was, of course, THE rock and roll anthem, "Rock and Roll All Night." Seemingly hundreds of pounds of coloured confetti were dumped on the crowd, while hydraulic platforms lifted Paul, Gene and Ace out over the audience and hoisted Peter's drum kit high above the stage amidst all the pyro, lights, smoke and excitement that KISS promised.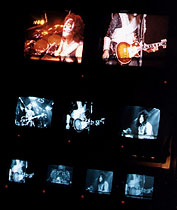 As I left the show, I couldn't help but think of all the past KISS shows I had seen and compare them to this one. I found it quite ironic that 17,000 people came to see the band this time around, when the band's last two Vancouver shows, for the Revenge Tour and the Hot in the Shade Tour, had a combined attendance of maybe 10,000. And both of those shows were better, entertainment-wise, than this last one was.
Tickets for this show sold out in 37 minutes. I guess in a way it's disheartening to think that KISS had to reunite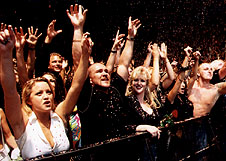 and put on makeup to once again fill arenas. But are arenas all that they sold out?
---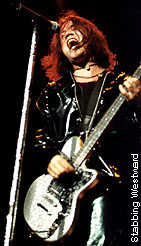 Usually most of the bands that open for KISS are like rocks in hard places. The loyalty expressed by KISS fans during opening bands' sets -- "We want KISS! We want KISS!" -- makes most bands want to roll over, play dead and join a support group. Not Stabbing Westward. Greeted with the usual opening band jeers, vocalist Christopher Hall replied sternly but politely, "Yeah, we wanna see KISS, too, but could you shut the fuck up while we're playing?! Thank-you."
And the crowd did just that as Stabbing Westward maneuvered their industrial-ish, dead solid music into the ears of the unexpecting and won the audience over. KISS has a reputation for bringing new upcoming bands out on tour with them, giving them their big break, if you will. Some -- remember Winger or Trixter? -- have fallen to the wayside, while others, such as Van Halen, Bon Jovi, Motley Crue and AC/DC, survived and went on to bigger and better things. My bet is Stabbing Westward will find themselves among the latter group.
---
First published in Drop-D Magazine on September 13, 1996
Index | Search | E-mail | Info | Copyright

Considering copying some of the images from this story?
Please read this first. Thanks.